US opens 1st permanent military base in Israel as tensions with Iran rise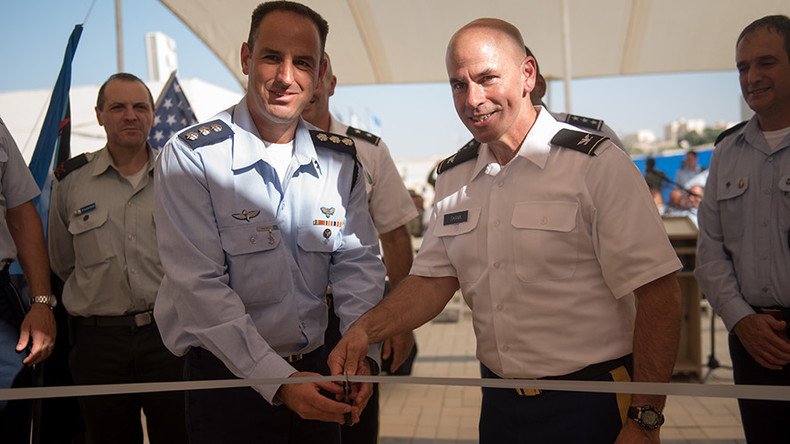 Even though the US has routinely deployed forces to Israel, it is only now opening an official permanent military base in the country. The move, largely seen as symbolic, is meant to send a strong message to Israel's enemies.
It will be a "base within a base," located inside the Israeli Air Force's Mashabim Air Base in the middle of the Negev desert, close to a US military radar installation east of Dimona that tracks ballistic missiles.
From the base, American forces will be helping operate Israel's multi-tiered missile defense system, which the two countries developed together.
The base's opening is largely symbolic and isn't expected to bring operational changes, AP reported.
However, Israeli officials believe the establishment of the base will send a message to their enemies.
"It's a message that says Israel is better prepared. It's a message that says Israel is improving the response to threats," said Brig. Gen. Zvika Haimovich, the commander of Israel's aerial defense.
In his speech, Maj. Gen. John Gronski, deputy commander of US Army National Guard in Europe, said the base "symbolizes the strong bond that exists between the United States and Israel."
Its opening coincides with Israel's renewed push for the Trump administration to cancel what Israeli Prime Minister Benjamin Netanyahu called the "terrible" nuclear deal with Iran, whom Israel considers its biggest enemy.
The deal was negotiated by world powers, including the US, two years ago, to make sure Iran does not build nuclear weapons. The UN's nuclear watchdog, the International Atomic Energy Agency, last week certified that Iran complied with the agreement.
However, earlier Monday, the Trump administration threatened to quit the deal if the IAEA does not require and obtain access to all Iranian military sites. "We will not accept a weakly enforced or inadequately monitored deal," Trump said in a statement to the watchdog's annual meeting in Vienna.
On Sunday, Israeli intelligence chief Yossi Cohen was cited by Israel's Channel 2 as calling for immediate action to ensure that Tehran cannot attain a nuclear bomb.
"Today's Iran is the North Korea of yesterday, and so we need to act now so that we don't wake up to [an Iranian] bomb," Cohen reportedly said. It was not immediately clear whether he called for a military strike against Iran.
The following day, an Iranian Army commander threatened to destroy Tel Aviv and Haifa if Israel makes "the tiniest" mistake of attacking Iran, according to Tasnim News Agency.
Israel's multi-tier missile defense system includes the Arrow, designed to intercept long-range ballistic missiles - the kind that Iran has, Iron Dome, which defends against short-range rockets that were fired by Palestinian groups from the Gaza Strip, as well as David's Sling which is designed to counter the type of medium-range missiles possessed by Iranian-backed Hezbollah militants.
You can share this story on social media: