80 arrests as riots grip St. Louis for 3rd day after ex-cop's acquittal in fatal shooting (VIDEOS)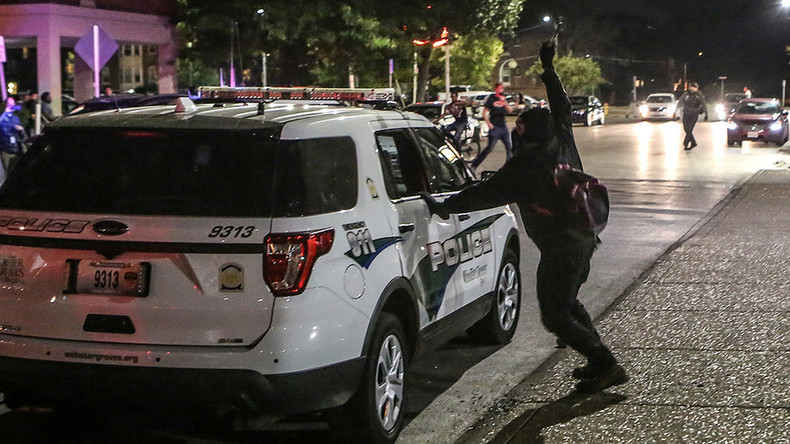 Riot police in St. Louis have made more than 80 arrests after a third consecutive day of protests that started peacefully but erupted into riots, clashes, and vandalism. It comes after an ex-cop was acquitted in the fatal shooting of a black man.
St. Louis police were forced to deploy reinforcements after initial reports of "significant property damage" and "agitators breaking multiple windows" surfaced in downtown St. Louis at around 8pm.
Protesters also attempted to block a ramp onto an interstate highway, according to police and witnesses cited by Reuters.
Demonstrators broke large ceramic flowerpots and threw chunks of them at storefront windows.
Windows were smashed at the Marriott Hotel on Washington Avenue and at other nearby businesses, including a sushi restaurant, a nail salon, and an optician's, St. Louis Today reported.
"This is no longer a peaceful protest," police said on Twitter as they ordered the crowd to disperse immediately.
Protesters refused to obey orders, however. Police then started using pepper spray and making arrests.
"Once again, a group of criminals set out to break windows and destroy property. Tonight, those criminals are in jail. Tonight we made more than 80 arrests..." St. Louis Police Chief Lawrence O'Toole said during a press conference.
"We confiscated at least five weapons - none of them were used. Some criminals assaulted law enforcement officers and threw chemicals and rocks at them," O'Toole said, adding that the officers' injuries were "minor or moderate."
"These criminals we've arrested should be held accountable and prosecuted to the fullest extent of the law. We're in control. This is our city and we're going to protect it," O'Toole said.
At one point, people embarked on an unmarked police car holding a suspect, prompting the officer to drive through the crowd in reverse to escape, according to police. No injuries were reported.
Authorities also said that "unknown chemicals" were sprayed onto officers during the night. Several bottles with "unknown" substances, which according to some reports might have been liquid to neutralize the effects of tear gas, were confiscated from activists.
Journalists covering the event also found themselves caught up in the chaos, with police ordering a group of news photographers to stand against a wall, according to Reuters. They were released after about 30 minutes.
Earlier in the day, protesters peacefully marched into the city's Midtown area holding up 'Black Lives Matter' signs and chanting, "Stop killing us" and "No justice, no peace."
There they gathered outside the St. Louis Police Department. They formed lines in front of the barricaded police headquarters where they staged a 'die-in' action.
"After the demonstrations, organizers announced that the daytime protests were over, but a group of agitators stayed behind apparently intent on breaking windows and destroying property. This is not acceptable...destruction cannot be tolerated..." St. Louis Mayor Lyda Krewson said during a press conference.
Protests erupted Friday after murder charges in the 2011 shooting case of 24-year-old Anthony Lamar Smith were dismissed by the court. Judge Timothy Wilson ruled that former St. Louis Metropolitan police officer Jason Stockley acted in self-defense when officers were trying to arrest the suspect.
The decision triggered massive demonstrations in the city and suburbs. By late afternoon, marchers were heard chanting, "We shut s*** down" and "These killer cops have got to go."
Tear gas & arrests, mayor's home vandalized in St. Louis after ex-cop acquitted of black man's death
By Friday evening, protesters converged on Mayor Lyda Krewson's house before police formed a barrier and used pepper spray on those who refused to leave. The demonstrations on Friday left 11 police officers injured. At least 33 people were detained.
On Saturday, protests continued their violent streak for a second night running. Following a number of peaceful events, by the evening some rioters started breaking the windows of various businesses and throwing objects at police.
Protesters smash windows in St. Louis after ex-cop acquitted of black man's killing (VIDEO, PHOTOS)
Officers in riot gear engaged the protesters, making nine arrests on charges ranging from "rioting" to "assault" in a confrontation that took place in University City, a suburb of St. Louis near Washington University.
The Sunday gathering was the largest of the three nights of protests, with more than 1,000 demonstrators taking part.
The large number of protesters prompted police to respond with their biggest show of force.