Safety v ratings: Media slammed for sending reporters straight into Hurricane Irma's path
Published time: 13 Sep, 2017 12:55
Edited time: 14 Sep, 2017 14:25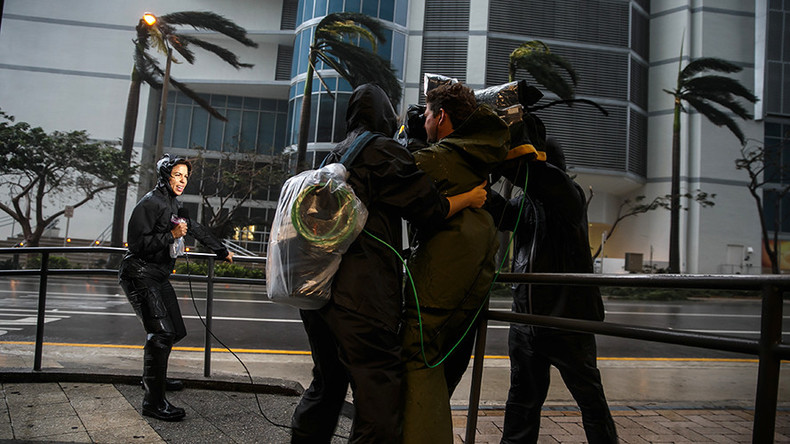 When Irma hit Florida as a Category 4 hurricane, various TV channels sent reporters into the middle of its path, competing for the most dramatic footage. Some have accused the stations of being "irresponsible" and fishing for ratings at any cost.
The message ahead of Hurricane Irma was clear, with Florida Governor Rick Scott explicitly telling people: "If you're told to evacuate, leave. Get out quickly."
But some media appeared to think their reporters were invulnerable, sending them out into the powerful storm while everyone else fled or took shelter.
READ MORE: Fake #Irma livestream on Facebook amasses 5.8 million views (VIDEO)
"I don't need to state the obvious here, but we are officially in hurricane conditions," one CNN reporter told the camera as he struggled to maintain his footing amid powerful winds and intense rain.
The irony of sending a correspondent into danger while they look at the camera and tell others to stay inside hasn't gone unnoticed on social media.
"You guys are looking into the camera telling people they shouldn't be there! Duh!" one person wrote in a tweet directed at NBC's Today Show and The Weather Channel.
Another person also addressed the same outlets in his tweet, calling the move "irresponsible" and advising them to "stop showboating" because "we know what hurricanes are."
One person joked at the absurdity of a CNN reporter standing in waist-deep water to tell everyone what they already knew - that Irma had hit land.
"CNN weather reporters be like #HurricaneIrma has finally hit land," the person wrote.
Twitter user @bquicker made a large statement with just three words: "Safety vs. ratings," implying that the networks clearly chose the latter.
Media analyst Lionel told RT that "everything was fine" before the internet, and alternative media such as Facebook, Twitter and YouTube. As a result, competition was increased and the mainstream media upped their game in order to keep viewers interested.
"It is an existential threat. They are fighting for their lives, and they will do anything – up to and including dying on television – to get that most wanted viewer attention," he said.
Meanwhile, Houston reporter Brandi Smith – who made headlines after she helped rescue a truck driver stuck in his cab amid rising floodwaters during Hurricane Harvey – addressed the subject live on-air that day.
"Sometimes we get flak because yes, we are out in it. We are doing the things we are telling you not to do. We do it so we can show you how bad the conditions are, so you do not attempt them."