Looks like an ocean: Miami's 'Wall Street of the South' underwater following Irma pounding (VIDEOS)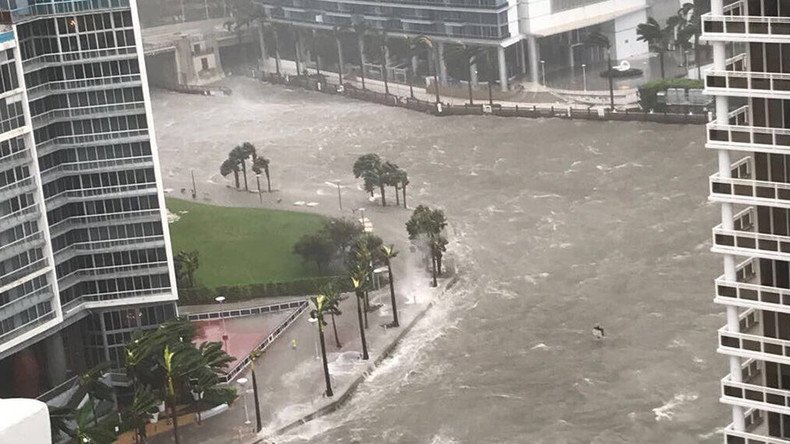 Luxury seafront apartments and global banking firms in Miami's Brickell district, dubbed "the Wall Street of the South," are being battered by Hurricane Irma, with the city's renowned financial area literally "turning into ocean."
Brickell is home to financial giants such as JP Morgan, Santander Bank and Wells Fargo. Luxury hotels including the Four Seasons Miami and the JW Marriott are also located there.
Images of the Brickell district posted online reveal that roadways have been turned into flowing rivers of water.
RT correspondent Marina Portnaya, who is in the area, described how the heavy rainfall and surging seawater along the Miami coast turned parts of the financial district into an ocean.
READ MORE: Stormchasers ignore dire storm warnings to measure Hurricane Irma windspeed (VIDEO)
"The flooding in Brickell is beyond comprehension. The water is coming from Biscayne Bay - one block from Brickell Ave. It's pouring over the sea wall," Portnaya told RT.com.
Portnaya said that even if people wanted to brave the extreme weather there would be no way to navigate the flooded streets.
"Brickell is not a neighborhood that can withstand what's happening. It floods when it rains for 30 minutes," she added.
Footage from near Brickell Key, where a condo can cost up to $1.8 million, shows waves from the Atlantic Ocean channeling by Dodge Island and into the Miami River.
Miami resident Matthew Spuler has posted a number of updates from his downtown home. At 1pm local time he said the weather was the worst it had been during the storm.
"The water is so ridiculously turbulent right now. Look at all the debris… it's just white cap after white cap," he told Instagram followers.
READ MORE: Paradise islands bowled over by Hurricane Irma (VIDEOS, PHOTOS)
"I thought it was dying down but I'm going to retract that statement and say it's probably been the hardest it's been all day right now. It is definitely not weakening. This is pretty crazy right now."
You can share this story on social media: