Stormchasers ignore dire storm warnings to measure Hurricane Irma windspeed (VIDEO)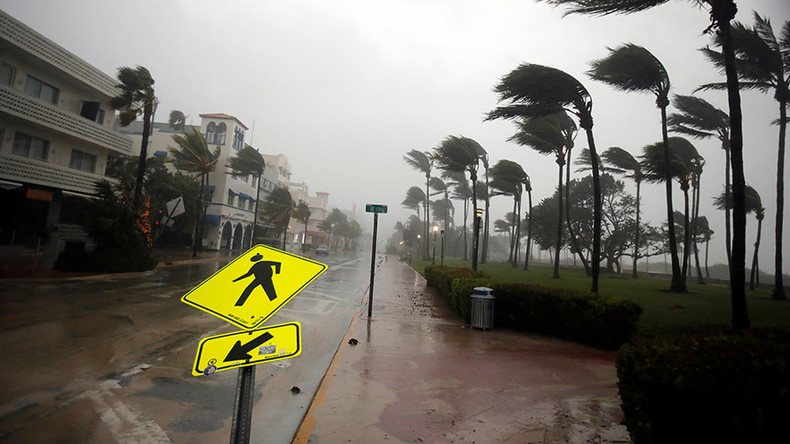 Residents have fled large parts of Florida due to the threat of extreme winds and flash flooding. But while millions have been evacuated, two daredevil stormchasers are facing the wrath of Hurricane Irma head-on.
Extreme weather journalists Simon Brewer and Juston Drake have been pictured online shunning safety advice to report from areas worst hit by the category 4 storm.
The duo blog for Stormgasm, a website which features dramatic footage and information about severe weather systems.
In one of the latest clips, Juston Drake steps from the safety of a vehicle into hurricane force winds measuring more than 100mph. The footage was taken at Saddlebunch Keys in Monroe County.
County officials urged people in the area to stay off the roads prior to Hurricane Irma making landfall.
READ MORE: 'Don't shoot at Hurricane Irma': Cops forced to issue warning after idea goes viral
Wearing a ski mask, Drake holds in the air an anemometer to measure wind speed, as he struggles to stay on his feet.
"I had to go out and test the winds in the eyewall of Irma," Drake tweeted, sharing the extraordinary footage.
Hurricane Irma has already left behind a path of destruction in the Caribbean, laying ruin to islands such as Saint Martin, Saint Barthélemy, and Barbuda.
Over two dozen people are reported to have died since the storm crossed the Caribbean towards the US.
That number could rise as the impacted islands begin post-Irma relief efforts.