Paradise islands bowled over by Hurricane Irma (VIDEOS, PHOTOS)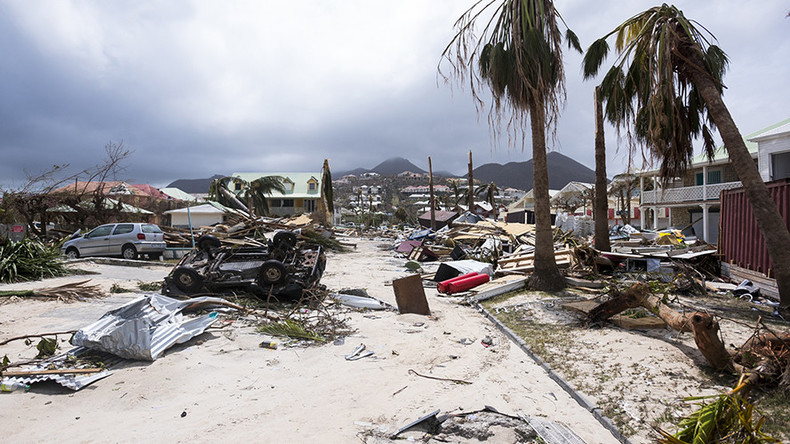 Images of the devastating impact of Hurricane Irma have filled social media, showing how the deadly storm system has reduced tranquil Caribbean island paradises to ruins.
More than 20 people died as extreme weather barrelled across the Caribbean bringing winds of up to 150mph. Whole neighborhoods have been turned-upside down on islands such as Barbuda, St Barts and the Virgin Islands.
Irma continues to travel west towards Florida, and the US Oceanic and Atmospheric Administration has warned that it will bring "life-threatening wind, storm surge and rainfall hazards".
As islanders struggle to come to terms with the natural disaster, and as MSM coverage continues to focus on Florida, here is the latest on the worst-hit Caribbean regions.
Saint Barthélemy and Saint Martin
Hurricane Irma has claimed the lives of at least nine people on the islands of Saint Barthélemy and Saint Martin.
A state of emergency has been declared on the French territories, with Gérard Collomb, France's minister of the interior, announcing that 1,100 emergency personnel including 380 police officers have been deployed to disaster-hit areas.
Makeshift shelters are reportedly being made in undamaged buildings. The government of the Netherlands has stated that "severe damage" was caused to the Dutch side of Saint Martin.
Barbuda
Structures across almost the entire island of Barbuda were demolished by the sheer force of Irma. It's estimated that up to 95 percent of the island's buildings were flattened during the storm leaving almost all of the 1,600 inhabitants homeless.
The government of Antigua has since stated that except for residents who refused to leave, the "evacuation of Barbuda is complete".
Virgin Islands
Located east of Puerto Rico, the Virgin Island chain has been severely impacted by the power of Hurricane Irma.

Communication and power systems remain down across much of the British Virgin Islands, making it difficult for authorities to assess the total damage. Widespread destruction of homes and buildings has been observed on Tortola and Anegada.
"The destination has lost entire structures and many homes are without roofs, or have been diminished to merely foundations," the BVI government said. "Sadly, there may have been fatalities in the territory, but there are none confirmed at this time as we are still in the assessment process."
In the US Virgin Islands, Governor Kenneth Mapp confirmed that four people died on Saint Thomas Island. He said it was likely that more fatalities would be confirmed.
Turks and Caicos
A collection of 40 islands, the British territory was struck by Irma's hurricane-force winds on Thursday and Friday. There have been no reports of deaths, but images on social media suggest that a number of buildings have sustained damage.
An update posted to a Turks and Caicos Islands Weather Info Facebook page stated that a school roof collapsed during the storm. Residents of Providenciales have also reported power outages.
St Kitts and Nevis
In contrast, the dual island nation St Kitts and Nevis escaped the full force of Hurricane Irma, according to Prime Minister Timothy Harris.
"Our country has been rather blessed and fortunate to have been spared the extreme ravages of Hurricane Irma," Harris said in a statement.
He added that the water supply had been restored to the majority of nation, while the main island roads were passable.
Dominican Republic
Sweeping by the north of the Dominican Republic, Haiti and Cuba on Friday, Hurricane Irma brought floods to the city of Puerto Plata and its surrounding area.
Puerto Rico
Governor Ricardo Rossello has held talks with US President Donald Trump in a bid to ensure emergency funds for the US territory.
According to a statement released on Friday, more than half of the island's population is without power. Three people also died during the storm, including a Camuy resident who was reportedly electrocuted.
You can share this story on social media: