Late-night host Colbert gives Trump Nazi salute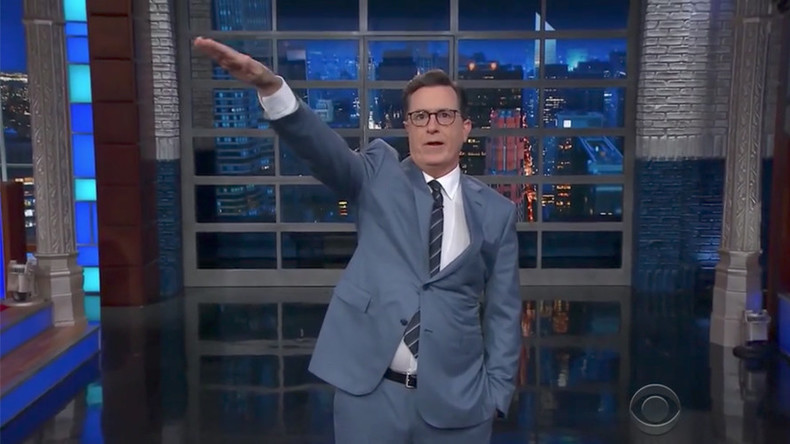 Comedian Stephen Colbert, host of a late-night show on CBS, flashed a Nazi salute - twice - during a rant about US President Donald Trump.
Returning to The Late Show after a two-week vacation, Colbert lashed out at Trump and his former chief strategist Steve Bannon, who resigned in mid-August.
Citing Bannon's comment that Trump was taking things "up to a higher level" with comments about the violence in Charlottesville, Virginia in early August, Colbert went full Hitler.
"Yeah, he's definitely taking it to a higher level. I'd say his support is about up there. Right around here," Colbert said, raising his arm in a Nazi salute. "Or over here," he added, doing it again. "Somewhere up there."

While not the first celebrity to accuse Trump of being Hitler incarnate, Colbert was the first to give a Nazi salute on national television.
This prompted some conservative observers to wonder if CBS will apply the same standard as CNN did, when it fired pro-Trump commentator Jeffrey Lord in early August. Lord had tweeted "Sieg Heil!" – a Nazi slogan usually chanted with the salute – at a liberal critic. While Lord said it was done as mockery, CNN did not care.
"Nazi salutes are indefensible," a CNN spokesperson told the network's media writer Brian Stelter at the time.
Others pointed out that the odds of Colbert getting fired are small, because what matters to the mainstream media is not the salute itself, but who does it.
This is not the first time Colbert has pushed the envelope of outrage in his coverage of Trump. In a tirade in May, he employed homophobic slurs to describe the relationship between Trump and Russian President Vladimir Putin. Despite a torrent of complaints, the federal watchdog declined to penalize CBS.
During his Thursday night rant, Colbert also claimed that during his visit to Texas, Trump "didn't meet a single storm victim, see an inch of rain or get near a flooded street."
"He's been closer to a flood in a Russian hotel room," the CBS host added, referring to the infamous – and debunked – Steele dossier published by BuzzFeed earlier this year.
Colbert has hosted the late-night comedy show since September 2015, replacing the long-time host David Letterman. He previously hosted his own show, The Colbert Report, from 2005 to 2014 on Comedy Central – in character as an over-the-top conservative pundit.