Tropical triple threat: Irma followed by Hurricanes Katia & Jose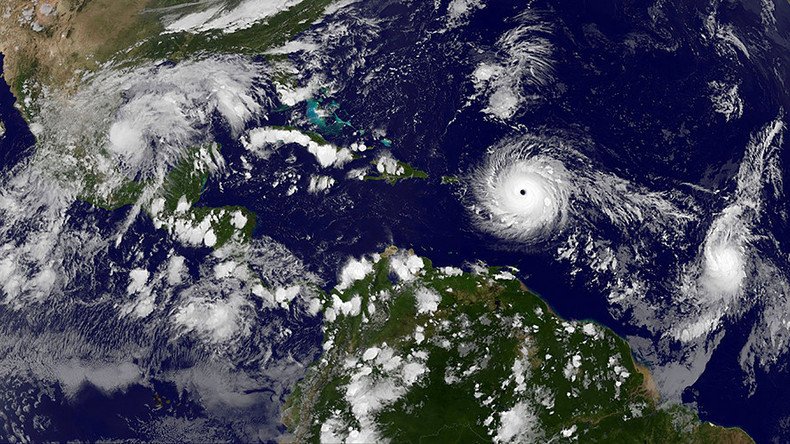 Two other giant storms – Katia and Jose – have grown to hurricane levels, and now trail the calamitous Category 5 Hurricane Irma, which has battered the Caribbean and is headed toward the southern coast of Florida.
Katia, a Category 1 hurricane as of Wednesday evening, is in the Gulf of Mexico and is expected to make landfall in Mexico late Friday or early Saturday.
The storm is forecast to produce up to 10 inches of rain, with the possibility of 15 inches in northern Veracruz, according to the National Hurricane Center.
"This rainfall may cause life-threatening flash floods and mudslides, especially in areas of mountainous terrain," NHC said.
For comparison, Hurricane Harvey unloaded over 50 inches of rain east of Houston, Texas last week.
Katia's maximum sustained winds are 75mph (120 km/h), compared with Irma's 185 mph (295 km/h), which makes the latter one of the strongest Atlantic hurricanes in history. Hurricane Katrina in 2005 had 175 mph winds.
Jose, like Katia, is a Category 1 hurricane with 75 mph winds. It is in the Atlantic, moving behind Category 5 Hurricane Irma, also in the northwest direction. However, Jose is unlikely to make landfall.
READ MORE: Escape from Hurricane Irma: Delta Airlines pilot pulls off dramatic NY-Puerto Rico roundtrip
With the three hurricanes on the map simultaneously, all eyes are on Irma, which is expected to bring a 20-foot storm surge and 20 inches of rain.
On Wednesday, it slammed the island of Barbuda before hitting St. Martin and Anguilla.
"Barbuda is literally rubble," Prime Minister Gaston Browne of Antigua and Barbuda told ABS TV/Radio Antigua.
Water and communication on the island have been cut off, Browne said. "It is just a total devastation."
About 1,800 people live on Barbuda.
Destruction on Barbuda was "upwards of 90 percent," Charles Fernandez, minister of foreign affairs and international trade for Antigua and Barbuda, told ABS.
READ MORE: Price gouging complaints hit Florida ahead of Hurricane Irma
You can share this story on social media: