Price gouging complaints hit Florida ahead of Hurricane Irma
Published time: 7 Sep, 2017 00:57
Edited time: 7 Sep, 2017 19:03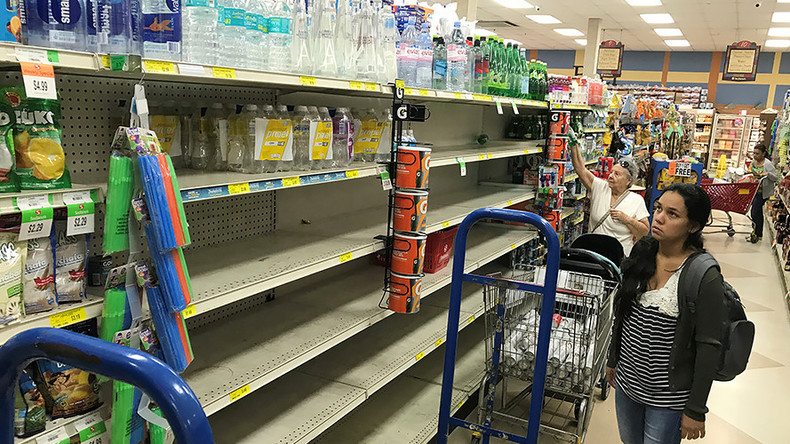 The Florida Attorney General's Office has received over 140 complaints about businesses allegedly taking advantage of people's preparations for Category 5 Hurricane Irma, which may hit the state's southern coast this weekend.
Some took to social media with screenshots from retailers, which appear to indicate drastic price hikes for goods like water and airplane tickets.
One screenshot posted by @TheRealDanny_A from Miami, Florida showed a pack of 24 bottles of water going for $100 on Amazon.
"We do not engage in surge pricing," Amazon told CBS News in response to the report. "Amazon prices do not fluctuate by region or delivery location. Prices on bottled water from Amazon, and third-party sellers that are doing their own fulfillment to customers, have not widely fluctuated in the last month."
As thousands are trying to escape Florida ahead of what could be a devastating force of nature, many have complained about steep airfares.
"Shame on you Delta. Jacking from $547 to over $3200 for people trying to evacuate responsibly?" - tweeted @LeighDow on Tuesday.
The woman later wrote, Delta "reached out and helped tremendously."
Delta officials weren't sure why the fare was so grossly inflated, since the price quoted was from Expedia's website, the Washington Post reported.
"We have not increased prices in response to the hurricane," Delta spokesman Trebor Banstetter told the Post.
John Lyons said that on Monday he purchased a one-way American Airlines ticket from Miami to Hartford, Connecticut, for $159.20 for his daughter to get out of Hurricane Irma's path, the next next he went back to buy one for his daughter's friend and saw the price jumped to $1,020.
"I logged in and expected to see $160, and frankly if I had seen $260 I wouldn't have reacted. And I logged in and saw, $1,020, and I about had a heart attack," Lyons told Yahoo Finance.
On Wednesday, JetBlue announced that it is capping its ticket prices in every city in Florida where the airline operates, so people can evacuate, saying it will charge a maximum of $99 up to the last available seat for direct flights and a maximum of $159 up to the last available seat for connecting flights.
Other airlines followed JetBlue's lead.
As of Wednesday, Delta is capping fares at $399 on flights out of Florida and the impacted islands, the outlet reported.
An American Airlines spokeswoman told Yahoo Finance that "While there are limited seats remaining before the storm hits, we will cap our pre-tax fares at $99 for MainCabin seats on direct, single leg flights out of Florida for tickets sold through Sunday Sept. 10 for travel until Sept. 1."
Florida set up a price gouging hotline after Governor Rick Scott declared a state of emergency in all 67 Florida counties.
State law prohibits extreme price hikes of essential commodities like food, water, ice, gas, hotels, lumber or any type of equipment that is needed as a direct result of an officially declared emergency.
Hundreds of complaints were filed last week in Texas, as Hurricane Harvey devastated the state's southern coast.
Texas Attorney General Ken Paxton said his office had received reports of gas being sold for $10 a gallon, and a case of water going for $99.