US not looking for 'total annihilation' of N. Korea, but has 'many options to do so' – Mattis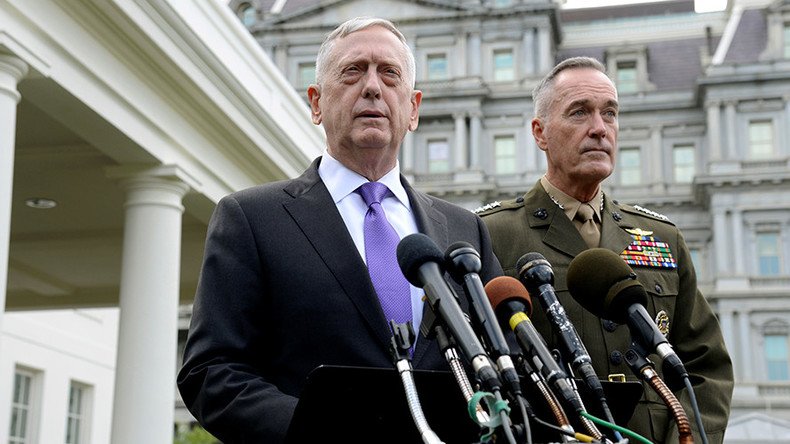 US Defense Secretary Jim Mattis has warned that any attack on the United States or its allies will be met with a "massive military response," and said that while the US was not "looking for the total annihilation" of North Korea, it had "many options to do so."
"We have the ability to defend ourselves and our allies South Korea and Japan from attack, and our commitments to our allies are ironclad," Mattis said in a statement he read out to journalists outside the White House.

"Any threat to the United States or its territories, including Guam or our allies, will be met with a massive military response – a response both effective and overwhelming.
"We are not looking to the total annihilation of a country – namely, North Korea. But as I said, we have many options to do so.
"We had a small group national security meeting today with the president and the vice president… We have many military options and the president wanted to be briefed on each one of them," said Mattis, who was one of the first Trump cabinet members to be confirmed by Congress in January.
Mattis urged Pyongyang to respect the UN Security Council resolutions that have imposed sanctions on the country for both nuclear and missile tests, the latest of which was passed last month.
"Kim Jong-un should take heed of the United Nations Security Council's unified voice. All members unanimously agreed on the threat North Korea poses. And they remain unanimous in their commitment to the denuclearization of the Korean Peninsula."
On Sunday, North Korea announced that it had performed a "completely successful" underground test of a hydrogen bomb, which it claimed could be loaded onto an intercontinental ballistic missile. The nature of the test was corroborated through the worldwide detection of a man-made earthquake around the military facility at Punggye-ri, whose power significantly exceeded that produced by the five previous nuclear tests carried out by North Korea.
READ MORE: N. Korea tested hydrogen bomb that can be mounted on ICBM – state TV
In response to the test, Seoul said that it will seek a new round of harsher sanctions in the UN Security Council against its neighbor. Tokyo has also called for tougher sanctions, especially concerning restrictions on the oil products trade.
READ MORE: S. Korea holds ballistic missile drill in response to Pyongyang's nuclear test
"President Moon Jae-in said the country will never allow North Korea to continue advancing its nuclear and missile technologies," presidential security adviser Chung Eui-yong said, following a National Security Council (NSC) meeting on Sunday.
The US leader in a series of tweets Sunday described North Korea's latest actions as "very hostile and dangerous to the United States." While the US is still mulling a response to the latest test, Donald Trump warned that the US is ready to use all range of options at its disposal, including "nuclear."
In the meantime, Russia and China, which share borders with North Korea, have agreed to "appropriately deal" with the issue and urged Washington and Pyongyang to remain calm and not take any action that could lead to war.
"The main threat that is preventing or would prevent an attack on these facilities and North Korea generally is not the fear that it will use its nuclear weapons," security analyst Charles Shoebridge told RT.
"It is the fear that [North Korea] has such overwhelmingly powerful conventional forces, particularly the conventional artillery, that if America attacked [it] there would be retaliation not necessarily against the US in the first instance, but it would be an absolute devastation… that could kill many tens of thousands," Shoebridge said.
Besides posing a real threat to its regional neighbors, Shoebridge said that a nuclear-packed ICBM could also penetrate the US missile defense system if more than one missile is fired at a time.
"The capabilities of the ABM (Anti-ballistic missile) systems the US … have been consistently overstated," the analyst pointed out. "Perhaps, the majority of the launches from such a state as North Korea could be intercepted, but in a situation when one or more projectiles can carry nuclear weapons you cannot afford [for] even one to get through."
You can share this story on social media: