N. Korea tested hydrogen bomb that can be mounted on ICBM – state TV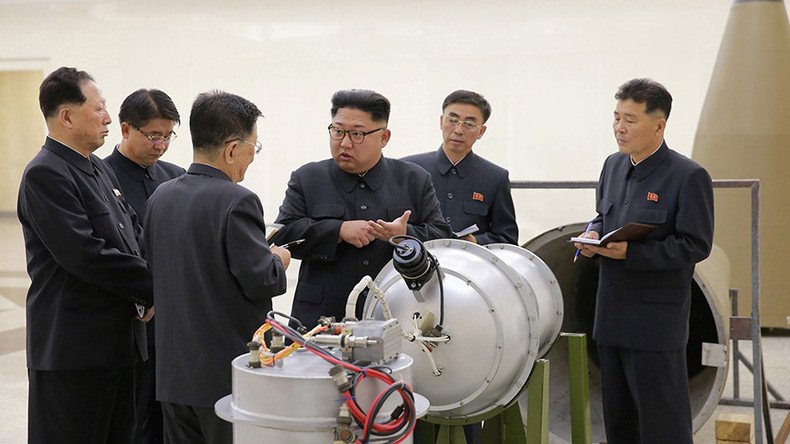 Pyongyang has successfully tested a hydrogen bomb which can be mounted on an Intercontinental Ballistic Missile (ICBM), the country's state TV announced. Earlier an "artificial quake" was registered near a nuclear testing site in North Korea.
The bomb test was a "perfect success" and was a "meaningful" step to complete the North's nuclear weapons program, state television said, as cited by Reuters.
Kim watched "an H-bomb to be loaded into new ICBM," KCNA state news agency reported, adding that all components of the device were "homemade."
"The H-bomb, the explosive power of which is adjustable from tens kiloton to hundreds kiloton, is a multi-functional thermonuclear nuke with great destructive power which can be detonated even at high altitudes for super-powerful [Electromagnetic pulse] EMP attack according to strategic goals," the agency said.
On Saturday, Pyongyang said it developed a new, more advanced hydrogen nuke that is small enough to be fitted on a ICBM, KCNA state media reported.
North Korea's Nuclear Weapons Institute created a "more developed nuke," bringing about a "signal turn" in the country's nuclear arsenal, the outlet said. North Korean leader Kim Jong-un reportedly inspected the new weapon during his visit to the nuclear facility.
"Our hydrogen fuel, which can be arbitrarily adjusted from tens to hundreds of kilotons depending on the target of the nuclear strike, not only exerts enormous destructive power," but can also explode at a high altitude, producing a "super powerful EMP [electromagnetic pulse] against a vast region," KCNA said in the Saturday statement.
READ MORE: Pyongyang conducted nuclear test, Tokyo says after 'artificial earthquake' strikes N. Korea
On Sunday, a 6.3 magnitude earthquake rocked North Korea near a known nuclear test site – Punggye-ri in North Hamgyeong Province, according to the Korea Meteorological Administration (KMA), as cited by South Korean Yonhap news agency.
The USGS reported the tremor as 6.3 in magnitude, while China's earthquake administration also said it detected a 6.3 magnitude earthquake in northeastern North Korea, calling it a "suspected explosion," Reuters reports.
The Japanese Foreign Ministry claimed that, according to its data, "it was a nuclear test." According to the Japan Meteorological Agency, the tremors in North Korea were at least 10 times as powerful as previous nuclear tests.
Witnesses in the Chinese city of Yanji, which borders North Korea, said they felt a tremor which lasted several seconds.
"I was eating brunch just over the border here in Yanji when we felt the whole building shake," Michael Spavor, director of the Paektu Cultural Exchange, told Reuters, "It lasted for about five seconds. The city air raid sirens started going off."
Moscow has voiced unease over North Korea's nuclear test. "That [North Korea] now has such a projectile after the latest ballistic missile tests is a big, serious concern," Frants Klintsevich, deputy head of the Federation Council committee for defense and security, told Interfax.
The official called the test "an unfavorable trend," although it did not endanger Russia or its citizens.
North Korea's nuclear test is a blatant violation of UN Security Council resolutions to "send a blunt message to the West," Leonid Slutsky, head of the State Duma foreign affairs committee, told reporters on Sunday.
"The United States and South Korea are provoking Pyongyang by flexing military muscle and making repeated threats of intervention and pre-emptive strikes," Slutsky said.
China strongly condemns the North Korean nuclear test, the foreign ministry said in a statement.
"The Democratic People's Republic of Korea has once again conducted a nuclear test in spite of widespread opposition from the international community. The Chinese government resolutely opposes and strongly condemns it," it said.
On Monday, South Korea's National Intelligence Service warned that the North might be preparing its sixth nuclear weapon test from a test site in Punggye-ri. Pyongyang has already conducted five nuclear tests – in 2006, 2009, 2013, and in January and September 2016. Following the previous test, the North claimed it had successfully detonated a small nuclear warhead.
Tensions on the Korean Peninsula have been running high over the past months. While the US and its allies say Pyongyang violated its international obligations with the missile tests, North Korea slammed Washington's military build-up in the region – in particular, the joint US-South Korea Ulchi Freedom Guardian drills, which took place in late August.
Following the ballistic missile tests, US President Donald Trump said "all options are on the table" regarding North Korea, later tweeting that "talking is not the answer."
Russia and China continue to insist that a military solution to the crisis is not an option. On Friday, Russian President Vladimir Putin warned that further escalation could lead to a regional conflict.
"The situation on the Korean Peninsula, where tensions have grown recently, is balancing on the brink of a large-scale conflict. Russia believes that the policy of putting pressure on Pyongyang to stop its nuclear missile program is misguided and futile," Putin said.
You can share this story on social media: