S. Korea holds ballistic missile drill in response to Pyongyang's nuclear test (VIDEO)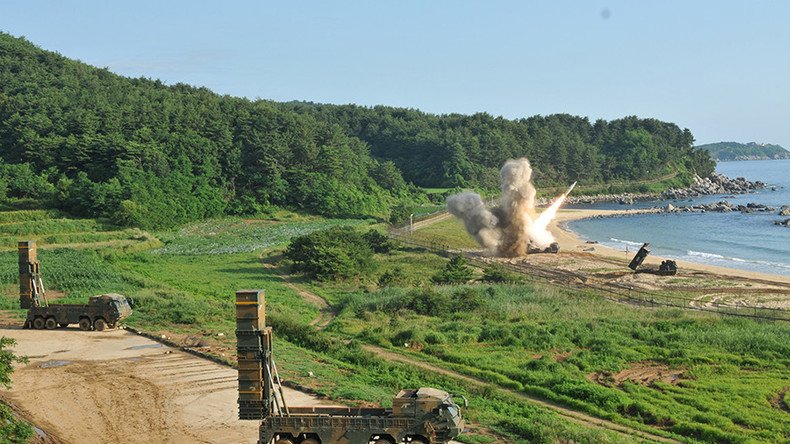 The South Korean military has conducted a live-fire drill, simulating an attack on the North's nuclear site, which involved fighter jets and a surface-to-surface ballistic missile, Yonhap reports.
The combined exercise involved South Korea's Hyunmoo-2A ballistic missile, as well as long-range air-to-ground missiles, all of which "accurately hit their designated targets," according to the Joint Chiefs of Staff.
The simulated targets were in the Sea of Japan, at a range that corresponds to the distance to North Korea's Punggye-ri nuclear test site, the military added, according to Yonhap.
"Our military has conducted a joint drill of the Air Force and the Army," the Joint Chiefs of Staff said. "It is a strong warning after North Korea's sixth nuclear test."
"We fired the Army's ground-to-ground ballistic missiles, and the Air Force's long-range air-to-ground missile at the East Sea target," the statement read.
The military added that the exercise carried out by South Korean forces is just the first demonstration of their power, warning that they are "preparing additional countermeasures by the ROK-US alliance."
On Sunday, Pyongyang claimed it had successfully tested a new hydrogen bomb which can be mounted on an Intercontinental Ballistic Missile (ICBM). The announcement on state TV came shortly after a powerful "artificial earthquake" rocked a known North Korean nuclear site.
China and Russia have strongly condemned the test, but urged Seoul and Washington to show restraint.
Meeting on the sidelines of the BRICS summit in Xiamen, Russian President Vladimir Putin and his Chinese counterpart, Xi Jinping, agreed to "appropriately deal" with the nuclear test. Both leaders recognized the necessity "to stick to the goal of denuclearization on the Korean Peninsula and to maintain close communication and coordination to deal with the new situation," Chinese news agency Xinhua reported.
Seoul, Washington and Tokyo have meanwhile called for tougher sanctions and countermeasures.
US Defense Secretary Jim Mattis warned that any attack on the United States or its allies would be met with a "massive military response." He noted that while the US was not "looking for the total annihilation" of North Korea, it had "many options to do so."
"Any threat to the United States or its territories, including Guam or our allies, will be met with a massive military response – a response both effective and overwhelming," Mattis said.
You can share this story on social media: