LA wildfire biggest in city's history, now spans 5,895 acres (PHOTOS, VIDEOS)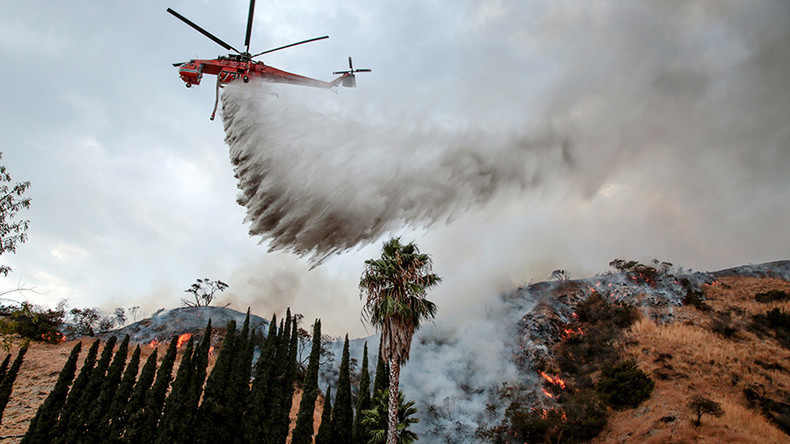 The La Tuna bush fire is now the largest by acres in the history of Los Angeles after burning more than 5,895 acres of land, according to fire service officials.
READ MORE: Wildfire burns 5,000 acres, forces hundreds of evacuations in California (PHOTOS, VIDEOS)
Three homes have been destroyed, and one damaged in the fire so far, with hundreds of residents evacuated from Glendale, Burbank, and LA. While the fire remains at 10-percent containment, the mandatory evacuation order for Burbank was lifted on Saturday night.
Governor of California Jerry Brown declared a state of emergency in LA County, Sunday. The declaration will ensure that state and federal assistance will be provided as quickly as possible.
Two firefighters have been treated for dehydration but so far no injuries have been reported. 1061 firefighters from multiple jurisdictions have been deployed to battle the blaze, 106 engines, 9 helicopters and 9 ambulances are also on hand to assist the crew.
A bush fire started in the Verdugo Mountains at about 1:30pm Friday. Gusting winds and high temperatures caused the blaze to become unpredictable and erratic, leaving officials "unable to give a firm prediction on all areas potentially at risk".
"The LaTunaFire is burning in 4 different directions to include down over the hills towards Burbank as well as north through the canyons above the 210 freeway," read a statement from the LAFD released late Friday night.
Fanned by 40 mph winds, the flames rose to 100 feet in height, forcing the closure of a nine-mile stretch of the 210 freeway.
Los Angeles temperatures are expected to come down, humidity is going up and erratic winds are predicted to clam, leading to a more "optimistic" outlook for demolishing the fire's this week, says the LAFD.
#LaTunaFire Don't fall victim to scammers saying they are raising money for "the firefighters" via crowdfunding sources We are not in need

— LAFD Talk (@LAFDtalk) September 3, 2017
While there is still no cause for the blaze, arson investigators are conducting an investigation.