Wildfire burns 5,000 acres, forces hundreds of evacuations in California (PHOTOS, VIDEOS)
Published time: 2 Sep, 2017 12:02
Edited time: 3 Sep, 2017 10:05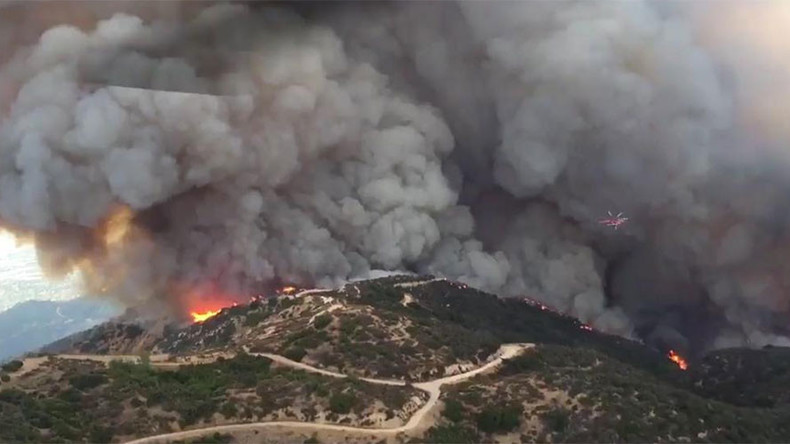 A ferocious bushfire near Los Angeles has spread across thousands of acres, prompting the mandatory evacuations of hundreds of homes in Burbank, California.
One home has been lost in the fire, according to the latest statement from the LA Fire Department. No injuries were sustained in that incident.
Five thousand acres have now burned in the intense wildfire while containment remains at 10 percent.
Approximately 300 homes in Burbank, 250 in Glendale and 180 in Los Angeles are under evacuation.
Burbank police announced mandatory evacuations of residents in the Brace Canyon Park area after the surrounding Verdugo Mountains caught fire at about 1:30pm on Friday afternoon.
READ MORE: Stunning drone footage captures devastation of wildfire in Greece (VIDEO)
Around 10 hours later, the LAFD said strong gusting winds meant the fire was erratic and unpredictable, leaving officials "unable to give a firm prediction on all areas potentially at risk".
"The LaTunaFire is burning in 4 different directions to include down over the hills towards Burbank as well as north through the canyons above the 210 freeway," read a statement from the LAFD released late Friday night.
Flames, fanned by 40mph winds, reached 100 feet in height as they spread across the 210 freeway, bringing traffic to a halt and eventually closing the road on both sides.
READ MORE: Satellite captures epic scale of Greenland inferno in intricate detail (PHOTO)
The fire has remained at 10-percent containment since 7pm Friday, and a tweet from Burbank police early Saturday said the evacuation orders will likely continue until "tomorrow afternoon."
Residents shared incredible footage of the blaze from all around the city, in particular from Burbank Airport and the 210 freeway.
More than 250 firefighters from the LAFD have been tackling the blaze from the ground and air. Fire crews from Pasadena, Glendale, Burbank, Los Angeles County, City, and the Angeles National Forest were also called in to help battle the flames.