'We only kill black people': US cop reassures female driver during routine stop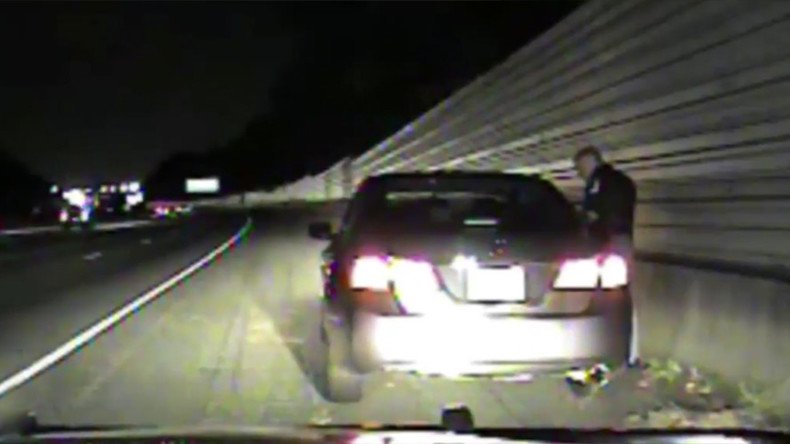 A police lieutenant in the state of Georgia will be fired after telling a female driver, "remember, we only kill black people." The officer made the statement to the woman amid her reluctance to move her hands out of fear of being shot during a routine traffic stop.
"I have known Lt. (Greg) Abbott for years and perceived him as honorable, but he's made a mistake," Cobb County Chief Mike Register said at a Thursday press conference, according to the Atlanta Journal-Constitution. "I don't know what is in his heart, but I know what came out of his mouth. We recommend that he be terminated and we are moving forward on that."
Dash cam footage, obtained by RT.com, shows a woman being pulled over by Officer Greg Abbott in Cobb County in July 2016.
When Abbott tells the female driver to grab her cell phone, the woman responds that she is afraid to move her hands after seeing "way too many videos of cops."
To ease her fears, Abbott tells the woman, "but you're not black. Remember, we only shoot black people. We only kill black people, right? All the videos you've seen, have you seen the black people get killed?"
Abbott was initially moved to administrative duty pending the outcome of an investigation, but on Thursday, Chief Register confirmed that the officer would be terminated.
Register told RT.com in a statement that the officer's remarks were totally inappropriate.
"No matter what the context, statements like these are unacceptable and are not indicative of the type of culture we are trying to facilitate here in the police department, as well as within the county," Register said.
Suri Chadha Jimenez, who is representing the female driver, told WSBTV the officer was probably trying to be sarcastic after the woman "gave him some lip."
"It makes you cringe when you hear it. It's unacceptable," Jimenez said, adding that the fear minorities experience when stopped by police is nothing to laugh at.
Abbott's attorney, Lance LoRusso, told the channel that the officer's comments were taken out of context and that the "highly-respected 28-year veteran" simply tried to "de-escalate a situation involving an uncooperative passenger."
"I find the comments on the video repugnant and offensive beyond measure. I have been assured that we will take quick and decisive action," Mike Boyce, Cobb County commission chairman, said in a statement to RT.com.
The number of people projected to die at the hands of US police in 2017 is set to approach 1,000 for the third year running, the Washington Post said in an annual study. Of the 492 people killed by police so far, nearly a quarter are black men.
Black people killed in police shootings were more than twice as likely to be unarmed compared to whites, a study found in February. Whites were also found to be the most likely group to be armed in fatal police shootings.
Using data compiled by the Washington Post, researchers were able to offer insight into the 990 reported fatal shootings by police officers in 2015. Over a quarter of those who died, 258 were black.
The study, published in the Criminology & Public Policy journal in January, underlined that the "overwhelming majority" of people killed by police were armed, but whites were the least likely to be killed while unarmed.
In 2014, a black 18-year-old high school graduate, Michael Brown, was killed by white police officer Darren Wilson in Ferguson, Missouri. The teen was walking through the St. Louis suburb when he got involved in an altercation with the officer. Wilson fired approximately 12 shots from his department-issued handgun. At least eight of them struck the teen's body and two were fired at his head, despite the fact that Brown was unarmed.
The officer later claimed the teen tried to reach for his gun. The incident sparked waves of protests against police brutality in the US and effectively launched the Black Lives Matter movement. Protests against police brutality were staged on the streets of Ferguson, as well as in over 170 cities across America.
You can share this story on social media: