After North Korea launch, US successfully tests missile interceptor
Published time: 30 Aug, 2017 16:29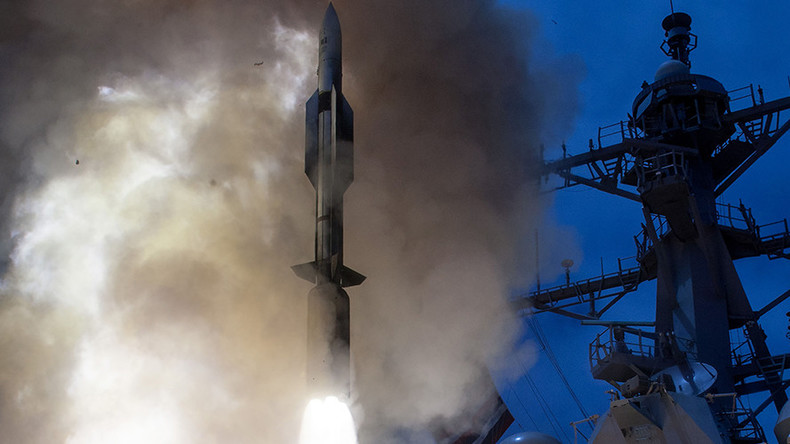 The US Navy and Missile Defense Agency (MDA) have successfully shot down a ballistic missile target during a test off the Hawaiian coast, the US government said. The test comes a day after Pyongyang test-launched a ballistic missile over Japan.
SM-6 interceptors fired from the destroyer USS John Paul Jones brought down a medium-range ballistic missile target, the MDA said in a statement.
"John Paul Jones detected and tracked a target missile launched from the Pacific Missile Range Facility on Kauai, Hawaii with its onboard AN/SPY-1 radar, and onboard SM-6 missiles executed the intercept," the MDA said on Wednesday.
The previous test in June involved the John Paul Jones firing SM-3 missiles at a ballistic target, and was not successful.
READ MORE: US Navy missile defense test fails off Hawaii
"We will continue developing ballistic missile defense technologies to stay ahead of the threat as it evolves," MDA director Sam Greaves said.
Early on Tuesday, North Korea carried out a test which saw a ballistic missile fly over the Japanese island of Hokkaido and land in the Pacific Ocean after flying more than 2,700 kilometers (1700 miles).
The operation has attracted widespread international condemnation. The UN Security Council unanimously adopted a statement calling the launch "outrageous" and adding that it "constituted a threat not only to the region but to all United Nations Member States."
While Tokyo said the North Korean test was "an unprecedented, serious and grave threat" to the Japanese nation, Pyongyang described it as "a meaningful prelude to containing Guam Island," as well as "decisive countermeasures against joint military exercises," referring to the US base in Micronesia and the joint US-South Korea drills respectively.
Kim Jong-un's earlier threats to "contain Guam" by striking areas around the US territory prompted a belligerent response from Donald Trump, who promised "fire and fury like the world has never seen."
On Wednesday, Japanese and South Korean leaders, Shinzo Abe and Moon Jae-in, shared their concerns over Pyongyang's action, slamming it as "outrageous."
READ MORE: Tokyo & Seoul seek 'maximum pressure' after UNSC condemns Pyongyang's 'outrageous' missile test
Meanwhile, Japan is worried over the US refusing to share the powerful SPY-6 radar, which would help counter North's missile advances, Reuters reported citing three unnamed sources familiar with the discussion.