Tokyo & Seoul seek 'maximum pressure' after UNSC condemns Pyongyang's 'outrageous' missile test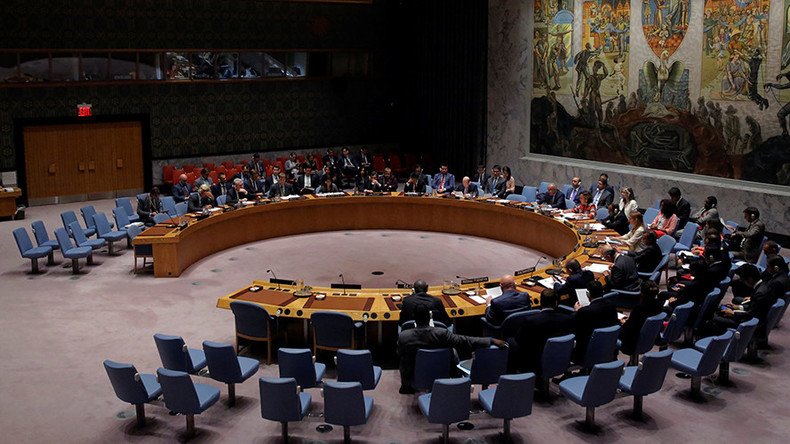 Japan's prime minister and South Korea's president have agreed to ramp up pressure on Pyongyang "to the maximum," seeking tougher sanctions after the UN Security Council unanimously adopted a statement condemning North Korea's latest missile test.
In a phone call Wednesday morning, Shinzo Abe and Moon Jae-in discussed their neighbor's "violent conduct" and agreed that pressure on Pyongyang should be raised "to the maximum," South Korea's presidential office said.
"I certainly hope that we'll be able to have a strong resolution following up this... statement," said Japan's UN ambassador Koro Bessho after the UN Security Council condemned North Korea's latest missile launch.
"The Security Council further condemns the DPRK for its outrageous actions and demands that the DPRK immediately cease all such actions. The Security Council stresses that these DPRK actions are not just a threat to the region, but to all UN member states," read the UNSC statement which, however, did not threaten any sanctions.
"The world is united against North Korea," US ambassador Nikki Haley said following the unanimous vote on the US-drafted text.
"The United States will not allow their lawlessness to continue," she added.
While the 15-member body expressed its "commitment to a peaceful, diplomatic and political solution to the situation," Russia's permanent representative to the UN, Vassily Nebenzia, said any future decision on the issue should explicitly exclude possible military action.
Trump says 'all options are on the table for North Korea' – White House statement
"There can be no military solution to the issues on the Korean Peninsula. We believe that all the United Nations Security Council resolutions on North Korea must specify this condition," Nebenzia said.
READ MORE: China warns tensions on Korean Peninsula at 'tipping point' after Pyongyang missile launch
Moscow firmly believes that Pyongyang "must cease the banned program and return to the NPT's non-proliferation regime," but does not consider further sanction pressure to be a viable solution.
"The normalization of the situation on the Korean Peninsula requires an approach providing for both halting of the North Korean nuclear and missile tests, and abandoning [US-South Korean] military build-up including the THAAD system and scaling down military maneuvers," Nebenzia said, once again referencing Beijing's and Moscow's "double freeze" roadmap which has been rejected by Washington.
READ MORE: Germany supports Russian-Chinese 'double freeze' plan for North Korea crisis – FM Gabriel
On Tuesday, North Korea launched an intermediate-range Hwasong-12 ballistic missile which passed through Japan's northern airspace. Pyongyang touted it as a demonstration of its determination and capability to counter any potential threat stemming from the joint US-South Korea drills, and hinted that their next missile could land in vicinity of the US' Pacific territory of Guam.
You can share this story on social media: