Trump says 'all options are on the table for North Korea' – White House statement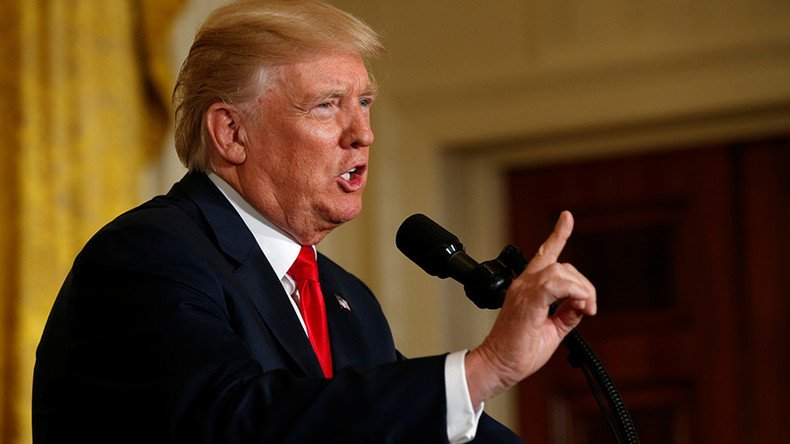 Donald Trump says "all options are on the table for North Korea," according to a White House statement. It comes after Pyongyang launched a missile over Japan.
"The world has received North Korea's latest message loud and clear: this regime has signaled its contempt for its neighbors, for all members of the United Nations, and for minimum standards of acceptable international behavior," Trump said in the statement, referring to the Tuesday launch of a ballistic missile which passed over Japan.
"Threatening and destabilizing actions only increase the North Korean regime's isolation in the region and among all nations of the world. All options are on the table," Trump added.
The comments come just hours after Trump held a 40-minute phone call with Japanese Prime Minister Shinzo Abe following the missile launch.
Trump and Abe agreed in the phone call that "North Korea poses a grave and growing direct threat to the United States, Japan, and the Republic of Korea, as well as to countries around the world," according to the statement.
It added that the US and Japanese leaders are "committed to increasing pressure on North Korea, and doing their utmost to convince the international community to do the same."
Trump also stressed during the call that Washington is "100 percent with Japan," Abe told reporters after the conversation.
Hours after the ballistic missile launch, North Korea accused the US of driving the Korean Peninsula towards and an "extreme level of explosion," and said Pyongyang is justified in responding with "tough counter-measures."
"Now that the US has openly declared its hostile intention towards the Democratic People's Republic of Korea, by waging aggressive joint military exercises despite repeated warnings... my country has every reason to respond with tough counter-measures as an exercise of its right to self-defense," Han Tae Song, North Korea's ambassador to the UN in Geneva, told the UN Conference on Disarmament.
"And the US should be wholly responsible for the catastrophic consequences it will entail," Han added, without explicitly addressing the Tuesday launch.
Meanwhile, Russia and China have proposed a "double freeze" initiative to resolve the Korean crisis. The plan, which is supported by Germany, involves freezing missile launches in North Korea in exchange for a halt in joint US-South Korean military exercises.
You can share this story on social media: