'This is a nightmare event': Levee breached south of Houston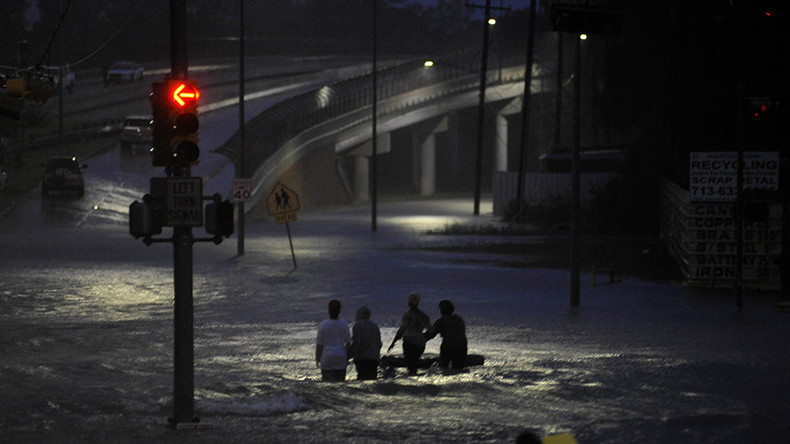 Officials of Brazoria County, Texas have urged residents in the Columbia Lakes area, South of Houston, to evacuate immediately following a breach of the levee at the Brazos river.
'This is a nightmare event,' Brazoria County Judge Matt Sebesta said of the levee failure.
The Brazos River has risen to historic heights as a result of storm Harvey and caused the levee to fail Tuesday, a scenario that authorities feared.
More heavy rain is expected through Wednesday, raising concerns that other levees are at risk.
Houston's Addicks dam began to spill over Tuesday.
Engineers have been releasing water from the dam in order to reduce pressure on the structure, causing more flooding in the area. However, the releases couldn't keep up with the fast rising water levels.
The difficulty of controlling the release is "something we've never seen before," flood control official Jeff Lindner told reporters.
On Monday, officials in Fort Bend County ordered the first mandatory evacuations along the Brazos River in Houston amid fears that the levees might collapse.
The Army Corps of Engineers began to release water from the Addicks and Barker reservoirs before 2am Monday – ahead of schedule – because water levels were increasing dramatically at a rate of more than six inches per hour, corps spokesman Jay Townsend said.
The two reservoirs were meant to safeguard Houston from flooding.
However, the levees were not designed to handle the expected 59 foot (18 meters) crest of the Brazos River which authorities say represented an 800 year flood event.
Thousands of people are in danger as they try to escape.
Four children and their great-grandparents were among the 14 people who have died in Texas trying to escape the floodwaters unleashed by Hurricane Harvey.
"The 14 reported dead include a family of six who were lost when their van sunk after crossing a bridge and hitting high water," Harris County sheriff's office said. The youngest in the family was six years old.
The Coast Guard told their relatives that they could not search for the bodies until the water recedes.
Texas officials fear that the death toll from Harvey is likely to rise, the Austin American-Statesman reported.