Should I stay or should I go? Mixed messages confuse Houston residents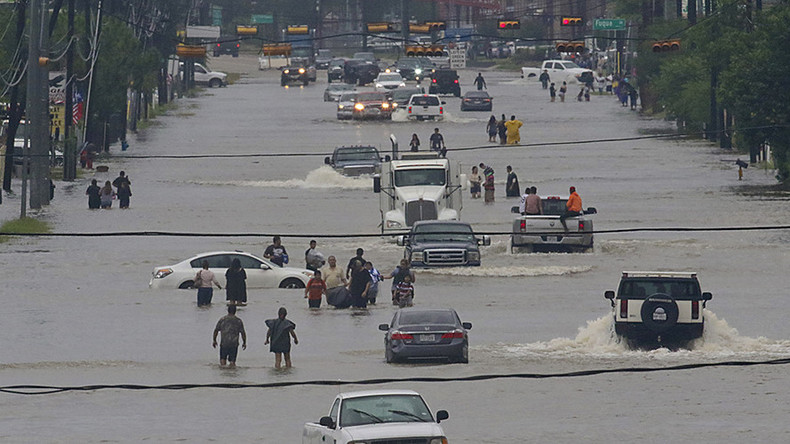 The first evacuations in Houston's suburbs were ordered Sunday night, days after weather forecasts warned of major flooding in the area. Houston officials say it's too late to evacuate the city itself, while the governor of Texas advises people to leave.
Officials in Fort Bend County ordered the first mandatory evacuations along the Brazos River in Houston amid fears that the levees might collapse.
The Army Corps of Engineers began to release water from the Addicks and Barker reservoirs before 2am Monday – ahead of schedule – because water levels were increasing dramatically at a rate of more than six inches per hour, corps spokesman Jay Townsend said.
READ MORE: 'Worst flood ever' hits Houston in the wake of Hurricane Harvey Live updates
The National Weather Service (NWS) says the flooding in the Houston area isn't expected to peak until Wednesday or Thursday. "The breadth and intensity of this rainfall is beyond anything experienced before," the NWS said in a statement.
Despite the NWS's warning of "additional catastrophic, unprecedented and life threatening flooding" through this week, Houston's mayor said it was too late for people to evacuate.
"Quite frankly, leaving your homes, getting on the streets, you'll be putting yourself in more danger and not making yourself safer," he said Saturday. "And so, we're just asking people to hunker down."
On Friday, just before Harvey made landfall, Houston officials argued with Texas governor Greg Abbot over whether people should stay or try to leave the area, further confusing the residents of America's fourth-largest city.
"Even if an evacuation order hasn't been issued by your local official, if you're in an area between Corpus Christi and Houston, you need to strongly consider evacuating," Abbott said Friday. "You don't want to put yourself in a situation where you could be subject to a search and rescue."
Some officials then fired back at the governor, with Francisco Sanchez, spokesman for the Harris County Office of Homeland Security and Emergency Management, tweeting "LOCAL LEADERS KNOW BEST," in response to Abbott's warning, urging people to heed the mayor's advice rather than the governor's.
Last Thursday, Houston's mayor wrote: "Ignore unfounded, unsourced weather predictions that have needlessly frightened Houstonians. Get info from trusted outlets. @HoustonOEM"
On the same day, the European hurricane model, ECMWF, predicted rainfall in the range of 30 to 40 inches in the area, while The NWS cited the American hurricane model, GFS, which predicted 15 to 25 inches of "extreme rainfall", saying it could "potentially lead to catastrophic flooding."
So far, South Houston has received 30 inches of rain, and is expected to receive another 20 by upcoming Thursday.
While authorities bickered over whether Houston residents should stay or leave, thousands were left to fend for themselves, as overwhelmed rescuers could not keep up with all calls for help from those who were chased to rooftops by rising water.
Many have called for help as they got stuck in their cars after leaving too late.
Asked about the evacuation mix-up on Monday, Governor Abbott said that "decisions about evacuation are something that's behind us. We are where we are."
The entire 12,000 members of the Texas National Guard have been called up to assist in rescue operations, while 18 counties were declared eligible for federal disaster aid.