2 dead, 4 wounded in library shooting in Clovis, New Mexico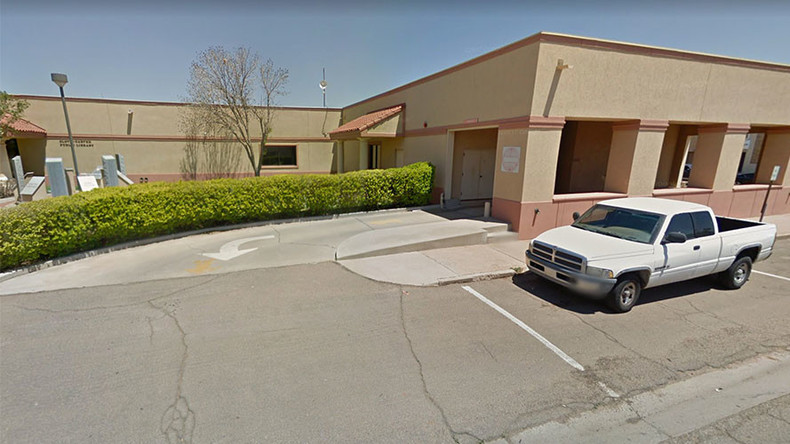 Two people have been killed and four others hospitalized, after police confronted an active shooter situation at the Clovis-Carver Public Library in Clovis, New Mexico.
Two people were killed and four others were hospitalized, a spokesman with the Clovis Police Department told RT America. The spokesman confirmed one arrest was made in connection to the incident, and that an investigation was underway.
At a Monday evening press conference, Police Chief Douglas Ford confirmed that two women were killed, and that the four injured included two men and two women.
Ford said that the individual taken into custody was the primary suspect. He added that the suspect did not fire any shots at the officers or offer any resistance when police made contact with him.
Air ambulances were dispatched, according to the Eastern New Mexico News, via police scanner traffic. One victim was reportedly taken to the Clovis Municipal Airport. The police scanner also purportedly said that a victim was hiding in a closet and seeking medical attention.
Police reportedly surrounded the library while the shooter was still inside, Vanessa Aguirre, a witness told the Eastern New Mexico News.
A male was taken into custody, but his connection to the shooting has yet to be confirmed.
The US Bureau of Alcohol, Tobacco, Firearms and Explosives (ATF) said they have responded to the shooting and will support the Clovis Police Department with the investigation.
BREAKING: ATF is responding to support the Clovis, NM Police Department following a shooting at the Clovis-Carver City Library today.

— ATF HQ (@ATFHQ) August 29, 2017
Clovis is about 220 miles east of Albuquerque, and is located near the Texas border.