Counterterrorism advisor Gorka out of White House, following Bannon & Scaramucci – reports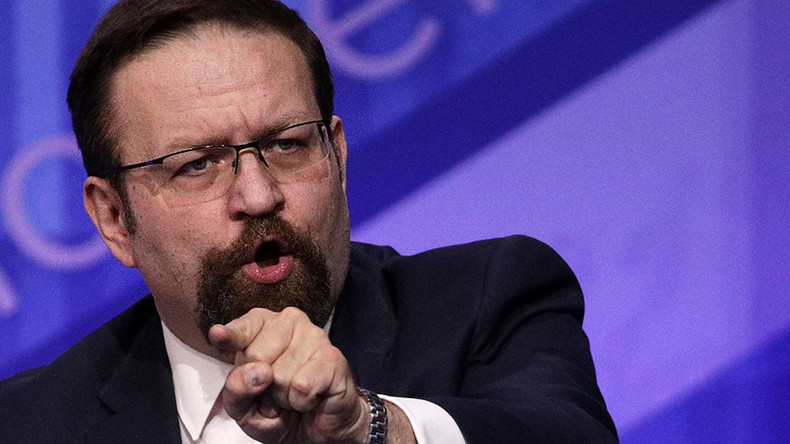 Sebastian Gorka is no longer a deputy assistant on counterterrorism to President Donald Trump. Gorka reportedly resigned over concerns that staffers who truly wanted to "make America great again" were being "undermined" amid infighting in the White House.
On Friday, Deputy Assistant Sebastian Gorka resigned his position at the White House. Gorka wrote a resignation letter explaining disagreements with his colleagues in the Trump administration.
"[G]iven recent events, it is clear to me that forces that do not support the MAGA promise are – for now – ascendant within the White House," Gorka wrote, the Federalist reported. "As a result, the best and most effective way I can support you, Mr. President, is from outside the People's House."
Gorka's main duties at the White House included serving as a counterterrorism advisor to Trump and supporting the drafting of a new long-term national security strategy. However, Gorka reportedly had problems obtaining a security clearance, according to The Hill.
An unnamed official at the White House pushed back against reports that Gorka resigned when asked for a confirmation on the nature of the departure.
"Sebastian Gorka did not resign, but I can confirm he no longer works at the White House," he said, The Hill reported.
READ MORE: Trump pardons ex-sheriff Joe Arpaio
In his first 30 days as the president's newly minted chief of staff, General John Kelly also removed Trump's chief strategist, Steve Bannon, and Communications Director Anthony Scaramucci.
Scaramucci emerged from the ashes of a short-lived tenure in DC to claim there is an effort by the establishment to remove Trump from the White House due to his anti-establishment ideals.
READ MORE: White House chaos: Trump's 'GoT' palace intrigue has no end in sight
Gorka used to contribute as a writer for the right-leaning Breitbart News. Bannon, who served as Executive Chairman for Breitbart while Gorka was employed there, also left the White House with ill will toward his colleagues. It is said the two were closely aligned in the White House.
There had been speculation in DC after Bannon allegedly resigned a week ago, that Gorka would be next.
The deputy advisor pulled no punches in his resignation letter. He was angered that the president did not mention the phrases "radical Islam" and "radical Islamic terrorism" in his August 21 foreign policy speech outlining the next steps in the Afghanistan war.
"Regrettably, outside of yourself, the individuals who most embodied and represented the policies that will 'Make America Great Again,' have been internally countered, systematically removed, or undermined in recent months. This was made patently obvious as I read the text of your speech on Afghanistan this week," Gorka wrote, according to the Federalist. "The fact that those who drafted and approved the speech removed any mention of Radical Islam or radical Islamic terrorism proves that a crucial element of your presidential campaign has been lost."
Critics of Gorka and Bannon have linked the two to white supremacists and Nazism. Gorka was criticized for this when he wore a medal that belonged to a Hungarian order called, Vitezi Rend, which was founded by an ally of Adolf Hitler. Gorka claimed that he donned the medal in remembrance of his father who had fought against communism, according to The Hill.
As Trump's allies from the beginning days of his presidency have dwindled, a few holdovers from the administration of former President Barack Obama were also given the axe in the early stages of Trump's administration.
Just 10 days in, Acting Attorney General Sally Yates was given the boot by the president for refusing to enact his controversial travel ban against seven Muslim-majority countries. Then, two months later, Trump gave 46 US attorneys their walking papers. The firing of FBI Director James Comey followed soon after in May.
Comey stated that President Donald Trump had tried to get him to drop an investigation into former White House national security advisor Michael Flynn for the former general's alleged contacts with Russia and other governments.
Flynn was ultimately forced into resignation after he "inadvertently briefed the Vice President-elect and others with incomplete information regarding his phone calls with the Russian Ambassador," according to his resignation letter.
You can share this story on social media: