White Chaos: Trump's 'GoT' palace intrigue has no end in sight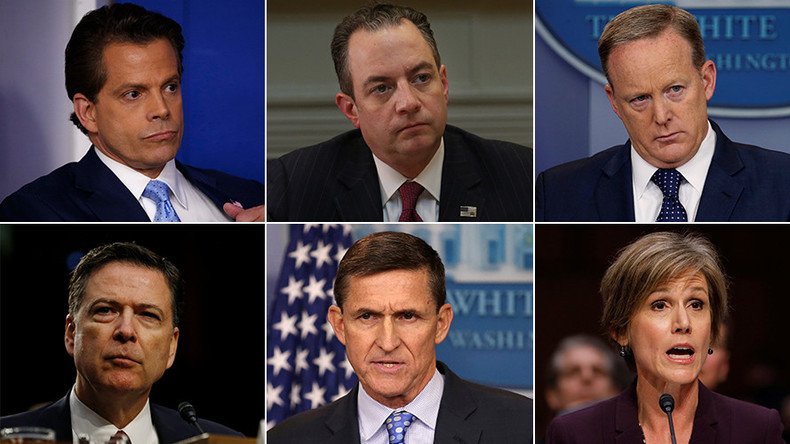 If this was a reality TV show, it might be called President Donald Trump's 'White House Apprentice.' All the backstabbing, leaks, hirings and firings make for a sinisterly dramatic comedy, like a cross between 'House of Cards' and 'Veep.'
White House Communications Director Anthony Scaramucci lasted a scant 10 days in the role, getting the boot on Monday ‒ the same day Homeland Security Secretary John Kelly was sworn in as White House chief of staff. And these are just latest in a series of upheavals that began weeks into Trump's presidency.
'You're fired…and you're fired...'
Trump kicked off his administration with a resounding 'You're fired!' The new president gave Acting Attorney General Sally Yates her walking papers 10 days after his inauguration for refusing to enforce his first travel ban directed at seven Muslim-majority countries. Two months later, Trump ordered the resignations of 46 US attorneys, including New York's Preet Bharara.
And the comings and goings didn't stop there.
The highest profile sacking (so far…) came on May 9, when Trump fired FBI Director James Comey. Initially the White House said that Comey was ousted over his treatment of the investigation into Hillary Clinton's use of a private email server while secretary of state.
The administration then said Trump had an "erosion of confidence" in the nation's top cop over "a lot of missteps and mistakes." Comey responded by claiming he felt Trump tried to pressure him into dropping a probe into former national security advisor Michael Flynn and his contacts with Russia and other foreign governments.
Flynn himself had an abrupt departure from office – his 24-day run on the National Security Committee was the shortest stint as national security adviser ever, so at least he left office with a record of sorts.
He was forced to resign just three weeks into Trump's term after he "inadvertently briefed the Vice President-elect and others with incomplete information regarding his phone calls with the Russian Ambassador," according to his resignation letter.
Those pesky leaks
After Comey's dismissal, he and Trump engaged in a bizarre back-and-forth over who said what, with Trump tweeting about possible recordings of their White House conversations, and Comey admitting he was the source of a leaked memo on their meetings to the New York Times.
Trump and his team have been beset by a series of leaks about internal White House relations, with the president declaring war on leakers just months into his term.
The real story turns out to be SURVEILLANCE and LEAKING! Find the leakers.

— Donald J. Trump (@realDonaldTrump) April 2, 2017
Trump's former chief of staff, Reince Priebus, resigned Friday, two days after Scaramucci (who was then, but is not now, White House communications director) all but accused him of leaking. In an expletive-laden interview, 'The Mooch' accused White House strategist Steve Bannon of "trying to s*ck his own c*ck," prompting a veritable MSM meltdown over publishing the graphic expression verbatim.
Scaramucci also played a role in the resignation of former press secretary Sean Spicer, who warned that welcoming 'The Mooch' was a major mistake.
Spicer shuffled two stints as the White House communications director from January to March, when GOP PR operative Mike Dubke was appointed. Dubke resigned without explanation at the start of June.
Spicer Part II then led two off-camera, audio-only White House briefings, broadcast on a time-delay.
Meanwhile, early last month, Obama-holdover Walter Shaub Jr resigned as the Office of Government Ethics director, and criticized Trump for the "appearance that [his] businesses are profiting from his occupying the presidency." He told CBS News: "Appearance matters as much as reality."
Despite the staff carnage and confusion over who could get the chop next, Trump is adamant there's "no WH chaos" and things are just chipper at 1600 Pennsylvania Avenue. Still, it's best to have the popcorn at hand – plot twists are par for the course in this real-life drama.
A great day at the White House!

— Donald J. Trump (@realDonaldTrump) July 31, 2017
You can share this story on social media: