Trump's British adviser Gorka to 'quit White House' amid claims of neo-Nazi links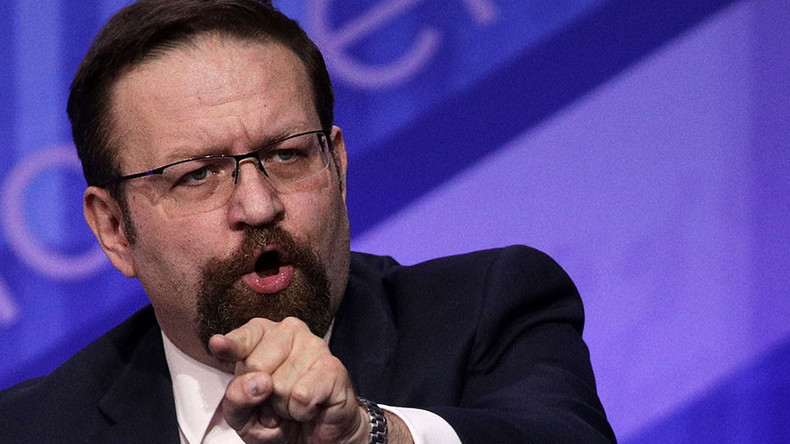 The British-born senior adviser to US President Donald Trump, Sebastian Gorka, is quitting the White House amid claims of links to neo-Nazi groups just weeks after he was forced to deny being anti-Semitic.
Gorka, a former Fox News pundit and Breitbart editor, will step down from the role in the coming days, according to an official in the Trump team speaking anonymously to CNN and the Associated Press.
In February, it was reported he had been spotted at various Trump events wearing a military medal of the 'Vitezi Rend' or 'Order of Heroes,' a political group associated with Hungarian fascism.
Gorka, who is of Hungarian descent, has fiercely defended wearing the medal, while denying he has any sympathies for fascism. He told the right-wing Breitbart website that the medal represents "underground organizations of pro-democracy, anti-Communists to work about [sic] the Soviet dictatorship."
CNN reported that "several administration officials" confirmed that Gorka, who grew up in West London, is expected to leave his job. One source said Gorka was generating too much controversy.
Gorka, a 'counterterrorism expert', was initially hired to play a key role on the Strategic Initiatives Group, an advisory panel set up by Trump's chief strategist Steve Bannon to run alongside the National Security Council (NSC).
That group fizzled out early on, and Gorka was said to be unable to get clearance for the NSC after he was charged last year with carrying a weapon at Ronald Reagan Washington National Airport.
Despite his lack of security clearance, he has served as a prominent spokesperson on cable television for Trump. In recent weeks, however, a White House spokesperson told the Washington Examiner that Gorka's role had diminished to the point where he was "giving White House tours and peeling out in his Mustang."
Gorka has maintained a hostile relationship with the media and his critics, clashing with journalists and those who question the Trump administration's actions.
Last week, Gorka reportedly stormed out of a cyber-security conference after allegedly yelling "fake news!" at student protesters. He has also walked off the stage during a panel discussion at Georgetown University after being questioned by students over his alleged links to the nationalist group in Hungary.
Gorka also generated controversy last month when it was reported he had pushed a plan to partition Libya while vying for the job of presidential special envoy to the country.
The Guardian reported he drew a picture of how the country could be divided into three areas on a napkin in a meeting with a senior European diplomat.
You can share this story on social media: