Tillerson vows Afghan peace talks to make Taliban 'legitimate' while Trump hesitates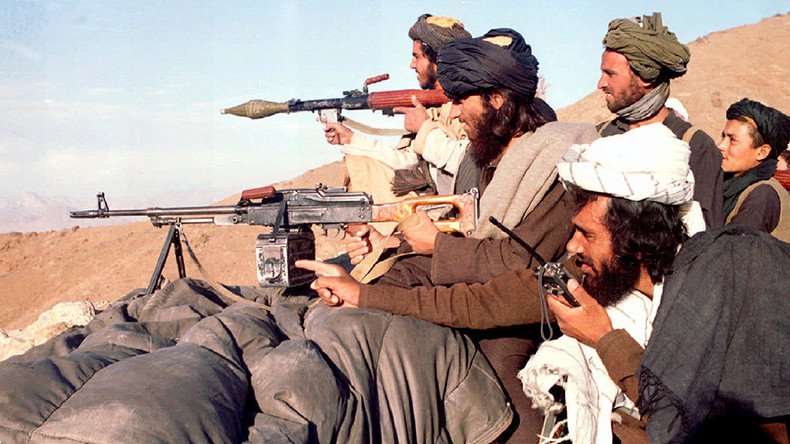 Secretary of State Rex Tillerson says the new Afghanistan strategy may pave way for a peace deal between Taliban militants and the Afghan government, bringing them "legitimacy," while the US leader does not consider it possible in the nearest future.
"Our new strategy breaks from previous approaches that set artificial, calendar-based deadlines," Tillerson said in a statement following US President Donald Trump's speech on a new Afghanistan strategy on Monday evening.

"We are making clear to the Taliban that they will not win on the battlefield," he warned, calling on the militants to come to the negotiating table.
"The Taliban has a path to peace and political legitimacy through a negotiated political settlement to end the war. We stand ready to support peace talks between the Afghan government and the Taliban without preconditions," Tillerson stated.
Meanwhile, Trump was not so optimistic over talks with the Taliban. While acknowledging that negotiations are possible, he does see them coming in the nearest future.
"Someday, after an effective military effort, perhaps it will be possible to have a political settlement that includes elements of the Taliban in Afghanistan, but nobody knows if or when that will ever happen," Trump stated.
However, Taliban spokesman Zabiullah Mujahid dismissed Trump's remarks on Afghanistan, saying they were "old" and "unclear," the Associated Press reported.
"If America doesn't withdraw its troops from Afghanistan, soon Afghanistan will become another graveyard for this superpower in the 21st century," the spokesman said, as cited by Press TV.
The Taliban has repeatedly called on the US to withdraw all the forces and, saying that "the main driver of war in Afghanistan is foreign occupation."
Russia has previously called for the integration of the Taliban to the political process if the militants were to obey the country's law.
"The Taliban must become a part of the political process if they recognize the current constitution of Afghanistan, give up on violence and will have nothing to do with terrorists," Russian Foreign Minister Sergey Lavrov said in May. He added that the Taliban is a part of Afghan population, which needs to be united under those conditions.
"It is hard to imagine that without them [the Taliban] the conflict can be resolved, especially after the destruction, which NATO forces left behind after their decade-long presence," Lavrov stated. He added that NATO did not solve any problem in Afghanistan and opened the way for Islamic State to come to the country.
You can share this story on social media: