Less power to you: Solar eclipse 'challenges' California electricity grid
Published time: 19 Aug, 2017 03:13
Edited time: 13 Feb, 2018 12:01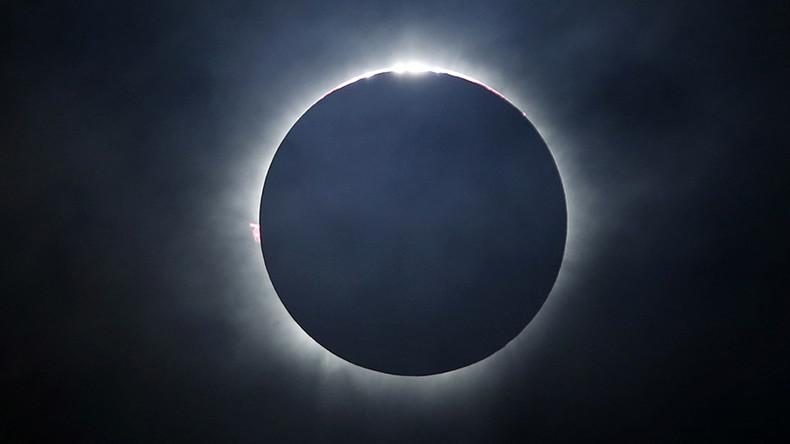 Californians are being advised to reduce electricity usage and unplug home electronics during the solar eclipse. But the state's solar-based electricity grid is not expected to run out of energy as the phenomenon plays out.
On Monday, August 21, the moon will block the sun for two minutes and 40 seconds, causing morning skies around North America to go dark.
The California Public Utilities Commission says when the solar eclipse passes over the Pacific Northwest it will affect solar resources administering power to California's grid.
"We have plenty of wind, geothermal, hydro, and natural gas to make sure the grid runs smoothly during the solar eclipse, but we also have a lot of Californians who want to do their California thing and step in to help replace the sun when it takes a break," the commission said in a blog post. "When we come together to do one small thing to reduce energy usage, we can have a major impact on our environment."
The CPUC is asking people to help ease the strain on the power grid by urging the public to conserve electricity between the hours of 9-11am.
"This will allow California to burn fewer fossil fuels and emit fewer greenhouse gas emissions when California's solar energy production dips during the eclipse," the commission said in a statement, the Los Angeles Times reported.
California is too far south to experience the full effects of the phenomenon, but people in the state will see the moon cover around 50-90 percent of the sun depending on their location. The solar eclipse will begin at 9am.
Steve Berberich, the president of the state's electricity grid, says it is prepared for the eclipse.
"I am confident in the technology of our market and grid, and in the expertise and abilities of our staff to manage the operational challenges associated with the eclipse," Berberich said, according to the Los Angeles Times.
But during the phenomenon, power production will decline. In response, grid operators estimate they will need to produce enough power from other energy sources to supply the equivalent of six million households.
READ MORE: 'We're still in': California teams up with Germany to tackle climate change amid US withdrawal
"The eclipse presents some grid management challenges for California and the West," Executive Director for System Operations at Cal-ISO Nancy Traweek, said, the LA Times reported. "However, with detailed planning and engagement among all parties, we are expecting no shortage of electricity or reliability incidents related to the eclipse."
California's solar power has a capacity of 10,000 megawatts, and at times, supplies as much as 40 percent of the energy load connected to the state's electricity grid.
In recent years, growth in solar use has mostly been motivated by California's push for clean energy. The state has put forth a mandate saying that 50 percent of the state's electricity must come from renewable sources by 2030.