Total solar eclipse: What you need to know (VIDEO)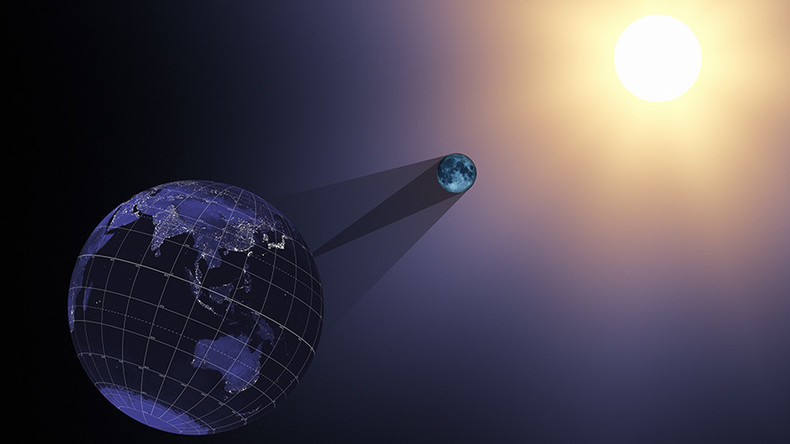 The continental US will experience its first total solar eclipse in 40 years on August 21. Here's everything you need to know about the celestial event, from how it happens to how to watch it safely.
A total or partial solar eclipse occurs when the moon passes between the Earth and the sun, putting us in the moon's shadow. It happens about once every six months, but for the first time in 40 years, the path of the moon's shadow will cross the continental US.
READ MORE: NASA issues safety guidelines ahead of rare 'coast-to-coast' total solar eclipse
What is it?
Though different in size, the distance of the moon and the sun from Earth, (239,000 miles and 93,000,000 miles respectively) means they can appear the same size from Earth's point of view.
So, at just the right point of orbit, the moon completely covers the disk of the sun over us in the sky, creating a total solar eclipse.
How does it work?
Those in the path of 'totality' – the 70-mile (112km) wide shadowed area outlined by NASA – will experience a brief twilight in the middle of the day, where observers can experience the cloak of darkness as it moves across them and continues its journey across the face of the Earth.
How long each person will experience the blackout depends on where they are in the shadowed path. Those at the edge might only experience the phenomenon for a few seconds, while those at the center of the path will get darkness for up to 2 minutes and 40 seconds.
When will it happen?
On Monday, August 21, those within the 'totality' band across the entire contiguous United States will have the rare opportunity to witness the total solar eclipse first hand.
Other countries will be seeing only a partial eclipse. The next total solar eclipse will be observable from central Argentina and Chile – in July 2019.
Where can it be seen?
The moon's shadow will pass through 14 states during the August 21 eclipse: Oregon, Idaho, Wyoming, Nebraska, Kansas, Missouri, Illinois, Kentucky, Tennessee, Georgia, North Carolina, South Carolina and the southwestern borders of Montana and Iowa.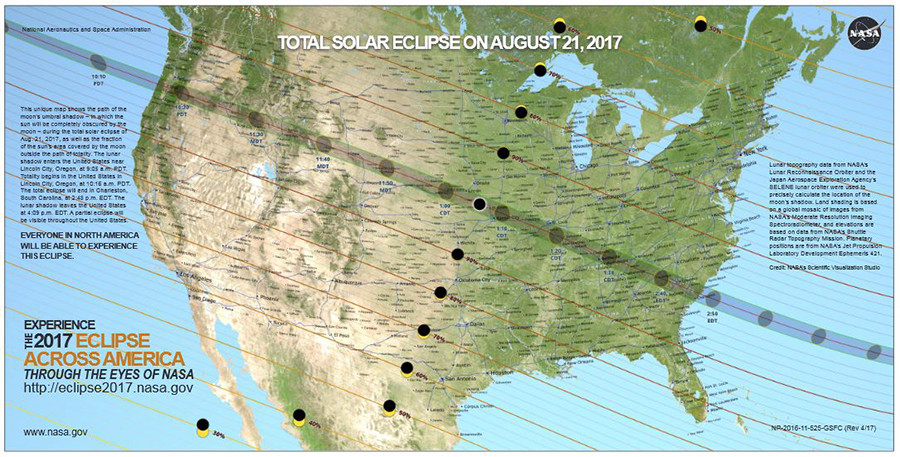 NASA has compiled a visualization of exactly where the shadow will pass across each state. However, the location to view the eclipse at its best and for the longest has been pinpointed as Hopkinsville, Kentucky at 1:20pm local time.
The space agency is reminding people of the dangers of staring directly at the sun - even during a total eclipse. NASA's safety guidelines say the only safe way to view the event is by donning special solar filters, or "eclipse glasses".
You can share this story on social media: