NASA issues safety guidelines ahead of rare 'coast-to-coast' total solar eclipse
Published time: 25 Jul, 2017 23:29
Edited time: 13 Feb, 2018 12:03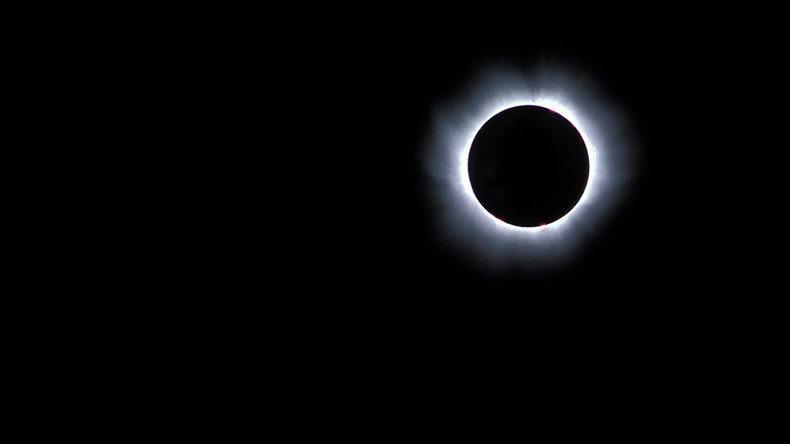 With the US set to experience its first "coast-to-coast" total eclipse in 99 years, NASA has issued guidelines on how to safely watch the rare phenomenon.
Total solar eclipses occur when the moon passes between the sun and the Earth, blocking the sun's light from reaching our planet.
An upcoming eclipse on August 21 will stretch all the way across America, from South Carolina to Oregon. It will be the first total eclipse in the US since 1979 and the first coast-to-coast eclipse since 1918.
READ MORE: 'Jaw-dropping': Rare total solar eclipse will 'bring people to tears'
NASA have issued safety guidelines to inform people on how to safely view the celestial event.
The guidelines note that the only safe way to look directly at a partially eclipsed or uneclipsed sun is with special-purpose solar filters, or "eclipse glasses."
"Homemade filters or ordinary sunglasses, even very dark ones, are not safe for looking at the sun," the space agency say.
NASA has also said that solar filters should be inspected prior to use. If it is scratched or damaged in any way it should not be used. Children should also be carefully supervised when using the filters.
Prior to looking at the sun users must "stand still and cover [their] eyes with [their] eclipse glasses or solar viewer before looking up at the bright Sun." After this they should turn away from the sun and remove the filter. NASA stressed that the filter should not be removed while still looking at the sun.
The sun or the eclipse should also not be viewed with an unfiltered camera, telescope, binocular or telescope. NASA said this can cause "serious injury" to your eyes.
NASA also issued a special warning to viewers who are within the path of totality of the eclipse that solar filters should only be removed when the Moon completely covers the sun and it gets very dark. As the sun reappears, the solar viewer should be put back on to look at the rest of the eclipse.