North Korea faces 'strong military consequences' if it attacks – Mattis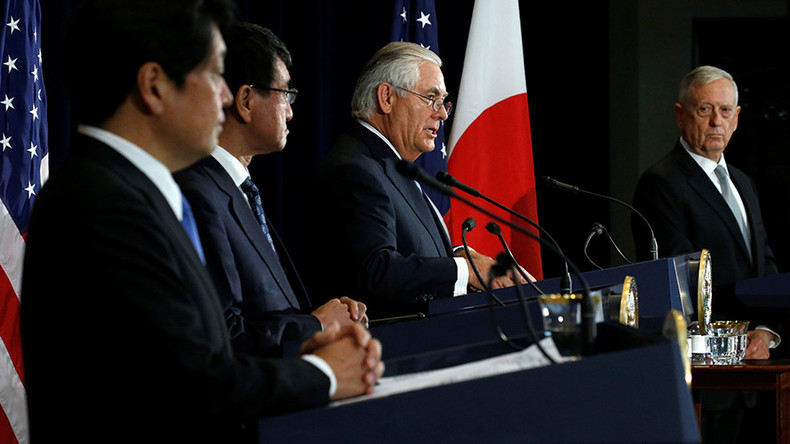 US Defense Secretary James Mattis put the military option against North Korea back on the table following President Trump's Chief Strategist Steve Bannon saying that a military action against Pyongyang is out of the question.
"There are strong military consequences if [North Korea] initiates hostilities," Mattis said at a joint news conference with US Secretary of State Rex Tillerson and the foreign and defense ministers of Japan on Thursday.
Mattis stated the US would take "immediate actions" to shoot down any missile launched by North Korea toward South Korea, Japan or Guam. The US will honor its defense treaty agreements with Japan "without reservation," Tillerson added.
Mattis also spoke on the phone with South Korean Minister of National Defense Song Young-moo on Thursday. According to the Pentagon, Mattis congratulated Song for being confirmed to his position, and the two talked about the United States-Republic of Korea alliance as well as strategies for dealing with North Korea.
The two top defense officials "strongly condemned" North Korea for its intercontinental ballistic missile (ICBM) test on July 28, according to the Pentagon. Mattis and Song are scheduled to meet in Washington, DC later this month.
Both US officials were asked about Steve Bannon's latest interview, in which President Donald Trump's chief strategist ruled out a military solution to the North Korean crisis.
Tillerson said that diplomacy is the Trump administration's first choice, but it has to be backed by a military option. The secretary of state said he saw Bannon's remarks but wouldn't comment on them.
"Until somebody solves the part of the equation that shows me that ten million people in Seoul don't die in the first 30 minutes from conventional weapons, I don't know what you're talking about, there's no military solution here, they got us," Bannon said in an interview with American Prospect, published Thursday.
Pyongyang must denuclearize the Korean Peninsula, Japanese Foreign Minister Taro Kono said when asked what conditions the North should meet for the allies to start a dialogue. "There is no sense in dialogue for the sake of dialogue."
Earlier this week, State Department spokeswoman Heather Nauert answered a similar question with "They know what they should do," without specifying exactly what North Korea needs to do for the US to begin a dialogue with Pyongyang.
The US and Japanese officials said they will not postpone their planned joint military exercises, despite North Korea saying it views the drills near its border as a threat to its security.
China has an important role in reining in North Korea, the officials said, with Tillerson stating that Beijing has cooperated with the international community in putting pressure on North Korea on a level unseen before.
Bannon had said that China is not likely to do more on North Korea, that diplomatic efforts were "just a sideshow," and that there was no reason for the US not to proceed with tough trade sanctions against Beijing in order to win the "economic war" with China.
Earlier in August, Trump warned that North Korea would face America's "fire and fury," if Pyongyang made more threats against the US.
Following the statement, North Korea threatened to strike an area near US Pacific territory of Guam within days, but later said it was prepared to watch US actions in the region "a little more" before ordering the strike.
"The United States, which was the first to bring numerous strategic nuclear equipment near us, should first make the right decision and show through actions if they wish to ease tensions on the Korean peninsula and prevent a dangerous military clash," North Korean leader Kim Jong-un was quoted as saying by the state KCNA news agency.
Trump called North Korea's decision not to follow through with its threat against Guam "very wise," saying the consequences would be "catastrophic and unacceptable."
Kim Jong Un of North Korea made a very wise and well reasoned decision. The alternative would have been both catastrophic and unacceptable!

— Donald J. Trump (@realDonaldTrump) August 16, 2017
On August 5, the UN Security Council unanimously agreed to impose more sanctions against Pyongyang, banning exports of coal, iron, lead and seafood. It was the UN's seventh round of sanctions in 11 years.
The move came in response to North Korea's latest missile launches in July, which were described by both Pyongyang and the US and South Korea as intercontinental ballistic missile (ICBM) tests.
You can share this story on social media: