'No way can we accept racism': Sessions fails to assuage anger over Trump's Charlottesville response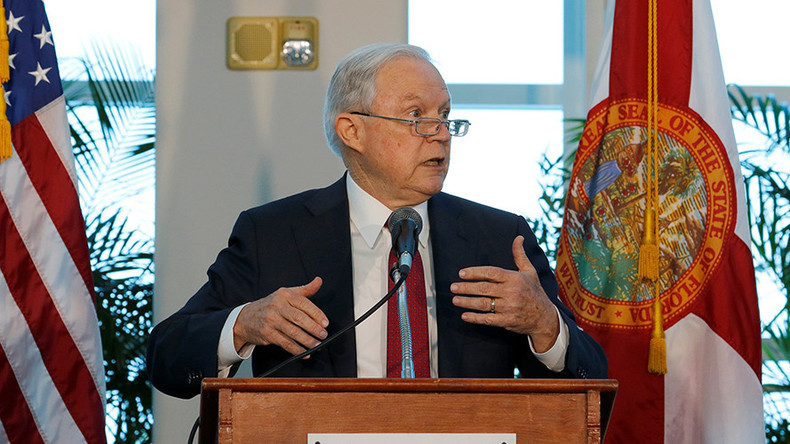 US Attorney General Jeff Sessions has condemned racism and bigotry amid criticism of President Donald Trump's reaction to the violence in Charlottesville. Sessions made the comments during a speech against sanctuary cities.
"In no way can we accept or apologize for racism, bigotry, hatred or violence," Sessions said Wednesday, referring to the violence in Charlottesville this weekend where white nationalists were confronted by counter-protesters, one of whom was killed.
Sessions was speaking in Miami where he blasted the so-called sanctuary cities while praising the Miami-Dade jurisdiction for cooperating with federal authorities.
However, Miami-Dade County Commissioner Daniella Levine Cava did not appreciate the sentiment.
"It is especially offensive for Mr. Sessions to put Miami-Dade, a community comprised mostly of minorities and immigrants, in the spotlight the day after the president of the United States inflamed racial and ethnic tensions by refusing to lay 100% of the blame where it must lie."
On Tuesday, Trump said "there's blame on both sides" for what happened in Charlottesville, criticizing the protesters who came to counter white supremacists at a rally. The president said that not everyone at the rally was a white supremacist, that some were "fine people" who gathered to oppose the planned removal of Confederate General Robert E. Lee's statue.
However, Sessions dedicated the bulk of his speech to the Trump administration's policy of cracking down on sanctuary cities – jurisdictions in the US where local law enforcement do not have to go after illegal immigrants or cooperate with federal authorities on the issue.
"I'm here to announce that Miami-Dade is now in full compliance and eligible for federal law enforcement grant dollars," Sessions said.
The Trump administration had earlier announced that the jurisdictions which refuse to help federal authorities go after illegal immigrants would not receive federal law enforcement grants.
Sessions particularly focused on crime in Chicago and the city's refusal to alert federal immigration authorities when an illegal immigrant is detained.
"Last year, Chicago's 2.7 million residents experienced more murders than the 12.5 million people who live in New York and Los Angeles – combined," Sessions said. "In the first half of last year, violent crime across the nation increased 5 percent, but in Chicago it surged 24 percent."
It remains unclear whether – or to what extent – illegal immigrants in Chicago have contributed to the city's high murder rate.
Last week, Chicago sued the federal government over the Trump administration's announcement that it would withhold federal grants to state and city law enforcement agencies unless they allow federal immigration authorities access to local jails, as well as give them 48 hours notice before releasing anyone wanted for immigration violations.
In the lawsuit, Chicago argues the federal policy is forcing the city to choose between its constitutional rights and funding for law enforcement.
At least 10 states across the US have challenged Trump's policy.