'Rape by cop': Dashcam footage shows student's 11-minute vaginal search (VIDEO)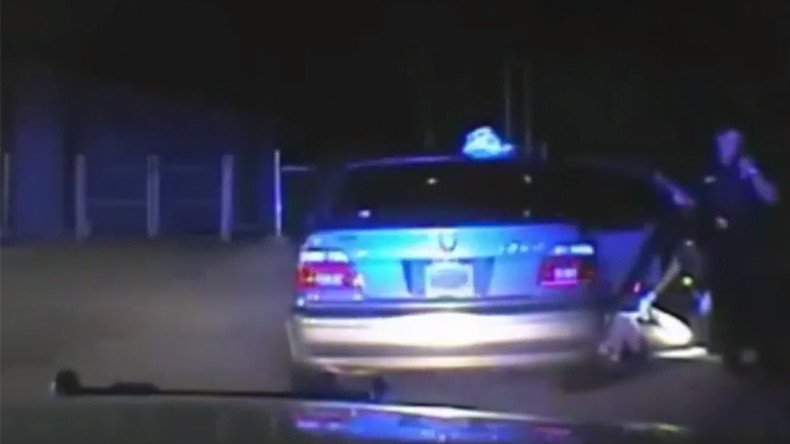 Dashcam footage has been released showing three Texas police officers subjecting a college student to a shocking road-side vaginal search that lasted 11 minutes.
Charneisha Corley was a 21-year-old college student with no criminal history when she was pulled over by police in Harris County, Texas on June 21, 2015, for allegedly running a stop sign.
Corley, now 23, was told to step out of the car after deputies said they smelled marijuana. After officers found nothing in the student's vehicle, Corley was told a female deputy had been called to conduct a body search.
READ MORE: Texas ex-officer indicted for killing teen at party
Upon the deputy's arrival, that search resulted in Corley apparently being body-slammed to the ground, her pants being roughly ripped off, her legs spread and her vagina probed for 11 excruciating minutes, the newly released dashcam footage shows.
The incriminating footage was released Monday by Corley's lawyer, Sam Cammack, in an attempt to vindicate his client who has been charged with two misdemeanors; resisting arrest and possession of 0.02 ounces of marijuana.
Cammock, who called the incident "rape by cop," said that prior to the assault, one officer can be heard saying on the tape: "oh we're going to find something, if we have to put our hands on her."
"The same officer bodyslammed Ms Corley, stuck her head underneath the vehicle, and completely pulled her pants off leaving her naked and exposed," Cammock told KRIV.
"They then took Ms Corley and put her ankles behind her ears, both of her ankles, in a spread-eagled position, and begin to search for something in Ms Corley's cavity in her vaginal area," the lawyer added.
READ MORE: Nearly 850 rape kits growing mold at Austin Police Dept
Harris County prosecutor Natasha Sinclair said, "No one in this office stands by the search the way it was conducted."
"No one condones that. No one thinks it's appropriate. It should not have happened," she said. However, the deputies involved may not be punished for their actions, with Sinclair saying: "Bad decisions, bad judgement, may not rise to the level of criminal offence."
The two deputies, Ronaldine Pierre, 34, and William Strong, 37, were put on office duties pending the outcome of the case against Corley and could face prosecution depending if the case goes to trial.
Criminal charges against the deputies involved were dropped by the DA on August 4, the day the case was set for trial, but refiled minutes later citing new "secret" evidence. Cammock has asked for a special prosecutor with no ties to Harris County to handle the case.
Cammack told LawNewz that the female deputy made a deal with DA prosecutors to testify against the other two deputies in exchange for avoiding indictment. Cammack called the prosecutors' process "disgusting," because he believes it denied necessary information to the grandy jury.
"At the end of the day … I believe this District Attorney did a favor for somebody," he said.
You can share this story on social media: