NY governor pushes 'Charlottesville Provisions' to make violent protests a hate crime
Published time: 16 Aug, 2017 00:20
Edited time: 16 Aug, 2017 08:12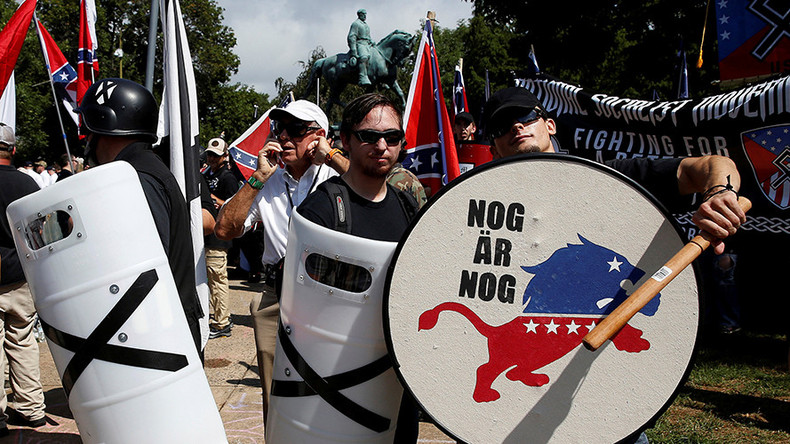 New York Governor Andrew Cuomo wants the state to prosecute violent protests against "protected classes" as a hate crime, suggesting higher criminal penalties. His so-called "Charlottesville Provisions" are a response to the violence in Virginia.
Cuomo has proposed to amend the state's hate crime laws to include rioting or incitement to riot against protected groups, according to the governor's office.
New York law protects groups and individuals on the basis of race, national origin, ancestry, gender, religion, age, disability or sexual orientation.
Cuomo also suggested increasing penalties for engaging in a riot against the so-called protected groups.
"The ugly events that took place in Charlottesville must never be repeated, and in New York we're going to stand united against hate in all of its forms," Cuomo said. "Our diversity is our strength and this legislation will help protect New Yorkers and send a clear signal that violence and discrimination have no place in our society."
Some attorneys have already criticized Cuomo's proposed 'Charlottesville Provisions.'
"Their intentions can be great but the way they work out in practice is they go far beyond what the intent was, often because these things are drafted so quickly," said defense attorney Kenneth Perry, who has represented dozens of people arrested during Black Lives Matter protests in NYC, according to Gothamist.
Perry emphasized that there are already laws that exist to prevent these offenses, the website reported.
"The increased penalties just force defendants to plead to things because they are afraid of the result. So it becomes coercive. The state already has so much power. The balance is already so skewed as it is," Perry said.
"That long, glorious US tradition of politicians exploiting emotions from terror attacks to start proposing new laws to curtail rights," wrote journalist and civil liberties advocate Glenn Greenwald.
Numerous pieces of legislation were proposed targeting protests in different states this year.
In February, the leader of the Arizona House dropped a bill intended to punish organizers of protests that turn violent. Critics argued the bill would limit First Amendment rights.
Earlier, an Indiana Republican state Senator, Jim Tomes, proposed a bill that would authorize law enforcement to use "any means necessary" to break up "a protest, riot, or other assembly" of at least 10 people that "unlawfully" blocks vehicle traffic.
On August 12, violence broke out in Charlottesville at a white nationalist rally when activists clashed with those who came to protest against them. A man then drove his car into the group of counter-protesters, killing a woman and injuring 19 people.
There's "blame on both sides" for the violence at the Charlottesville rally, President Donald Trump said Tuesday, adding that people had the right to protest against the removal of "a very important statue," referring to the planned relocation of a monument to Confederate General Robert E. Lee which triggered the rally.
There has been a major push to remove Confederate symbols from city squares across the US. Many consider it a reminder of the South's support for slavery during the war.