'Any means necessary': Indiana proposal seeks to chill protest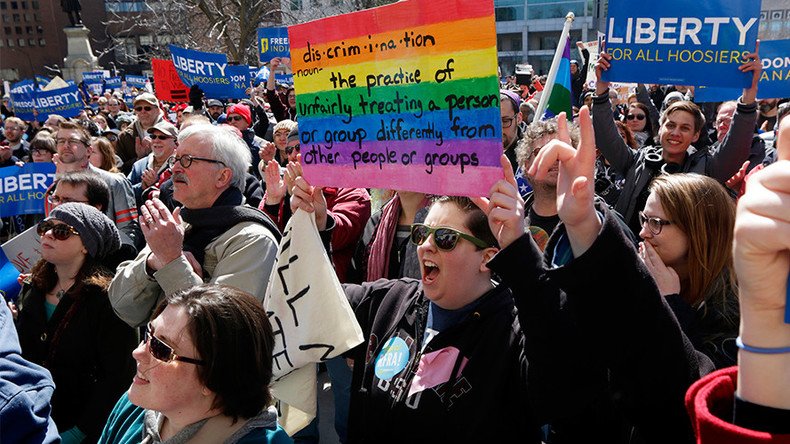 An Indiana Senate bill would require public officials to immediately dispatch "all available law enforcement" to clear a traffic blockade involving at least 10 people "by any means necessary." Opponents call it the "block traffic and you die" bill.
Earlier this month, Republican Indiana state Senator Jim Tomes filed Senate Bill 285, which targets "a protest, riot, or other assembly" of at least 10 people that "unlawfully" blocks vehicle traffic.
"A responsible public official shall, not later than 15 minutes after learning of a mass traffic obstruction in the official's jurisdiction, dispatch all available law enforcement officers to the mass traffic obstruction with directions to use any means necessary to clear the roads of the persons unlawfully obstructing vehicular traffic," the legislation's text reads.
The purpose of the bill is "very simple," Tomes said in a statement, in that it aims to restrict permitless protests, especially those that block roads and highways.
"We need to keep our streets and interstates open to commerce, traffic, motorists and emergency personnel," the senator said, according to WRTV. "Anyone who wants to stage or participate in a protest or demonstration is free to do so. But they will need to do what all other organizations do for an event or demonstration: apply for a permit with their local government. With this information, first responders will know what roads are going to be blocked and what roads they can take when responding to an emergency."
The bill was scheduled to receive its first committee hearing on Wednesday, but that presentation was postposed, according to WRTV.
Groups in opposition to the legislation say it is a naked attempt to curb free speech rights. The bill "doesn't make sense," Sue Ellen Braunlin, co-president of the Indiana Religious Coalition for Reproductive Justice, told the Guardian.
"We have stopped traffic for a short time during protests, with police cooperation. Often they will let us stop traffic and we have not had a problem. We've had a women's rights march and a Black Lives Matter march and it was all very peaceful and coordinated with the police," Braunlin said.
Pointing to the "any means necessary" language in the legislation, Braunlin's group called SB285 the "Block Traffic and You Die" bill.
The bill is an attack on organizations active against the agenda set by the Indiana Legislature, said Dominic Dorsey, founder of the group Don't Sleep.
"No one is unfamiliar with the resistance rally relating to the Donald Trump appointment, but let's be honest, anytime there is any type of protest of civil unrest and individuals take to the streets, there is going to be 10 or more people gathered," Dorsey said, according to WRTV.
"I think it's ironic on the eve we're celebrating Dr. King's birthday, a person who marched in the streets across the Edmund Pettus Bridge, arm in arm, obstructing traffic, that we seek to make a law on top of another law to target protestors."
Other Republican-led state legislatures have wasted no time in their new legislative sessions to propose similar bills, as The Intercept reported Thursday.
In North Dakota, site of the Standing Rock protests over the Dakota Access Pipeline, a bill was introduced last week that would allow a motorist to run over a person blocking traffic in a nod to highway blockades set up by Standing Rock demonstrators.
In Minnesota, a new bill seeks to increase penalties for blocking traffic, likely a response to a mass protest on a St. Paul interstate in July following the police killing of Philando Castille. Washington state legislators will consider draft legislation to classify as "economic terrorism" any permitless protest that causes harm to the flow of commerce.
In Michigan's legislature, an anti-picketing bill would boost penalties against those, particularly unions, who attempt to harm a business's bottom line.
Landmark civil rights "legislation didn't pass because we had polite protesters,"said State Rep. Leslie Love, a Democrat from Detroit, in opposition to the Michigan bill. "We did it on buses and bridges and lunch counters. And those protesters were attacked by dogs, water hosed down." She added: "I'm deeply appalled by these bills because I grew up in a union household and my mother took me to pickets and it was always a safe environment."
You can share this story on social media: