Arizona lawmaker kills controversial protest bill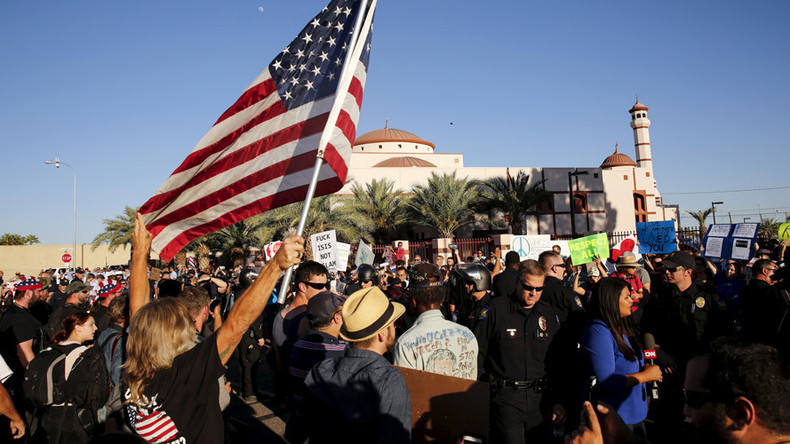 The leader of the Arizona House has dropped a controversial bill intended to punish organizers of protests that turn violent. Critics argued the bill would limit First Amendment rights. Other similar bills are percolating in other states.
"[People] need to know we are not about limiting people's rights," House Speaker J. D. Mesnard (R-Chandler) said in an interview on Monday with The Arizona Republic. "The sponsor is not about it, the governor is not about, the government is not about that. The most efficient, expedient way to communicate that is to kill the bill."
Rioting is already illegal under Arizona law, but Bill 1142, which passed the Senate last week, would have expanded racketeering laws to include rioting.
All 17 Senate Republicans supported the measure, all 13 Democrats voted 'no.' The bill would have allowed protest organizers to be prosecuted if someone else were involved in rioting – even if that individual were not part of the organizing group.
Under the measure law enforcement could prosecute organizers for planning an event that could result in rioting.
Mesnard's office was inundated with calls from the public, concerned the bill was intended to curb free speech rights and would classify violent protest as organized crime. By Monday he had more than 100 messages about the bill before he decided to scrap the bill, according to The Arizona Republic.
Mesnard said his decision was a practical one to end an unnecessary distraction. "I did look at the bill, it's actually a bill of relatively few words, but they insert the word riot there sort-of in the racketeering. You put it right below terrorism and people think 'Oh my goodness, really, riot and terrorism is the same thing?'" Mesnard told AP. "Well, they're not the same thing. I don't think that's what the bill is trying to get at."
Governor Doug Ducey, who ordinarily doesn't speak about legislation until it reaches his desk, said through a spokesman that he "had been assured the bill is dead," and was "pleased" it wouldn't advance, according the Arizona Republic.
The bill's sponsor, Senator Sonny Boreeli, (R - Lake Havasu) said the legislation was intended to go after people who turn peaceful protests into riots by causing property damage. He complained his bill had been widely misunderstood due to a liberal "spin" job.
"How can they be held responsible for a crime they did not commit?" he asked The Arizona Republic.
Senate Republicans, in voting for the bill last week, pointed to last month's riots in Washington DC as Donald Trump took office, as well as the Berkeley, California riots sparked by the scheduled campus appearance of right-wing provocateur Milo Yiannopoulos which was then cancelled.
Opponents said the bill was so broadly written that it could ensnare innocent people and impede free speech rights.
During the vote, Democrats said there is no evidence to show that current laws against rioting, property destruction and assault are ineffective. They said the measure will having a chilling effect on free speech rights by adding new crimes under racketeering laws commonly called RICO statutes.
"This is a total perversion of the RICO process, the racketeering process, and I see major Constitutional issues down the line," Sen. Steve Farley, (D-Tucson) told AP "I don't think this is going to do anything but get us into more lawsuits."
The Arizona legislation is the latest in a string of proposals in Republican-led states intended to crack down on protests.
In Colorado, a bill under consideration would strengthen penalties for "tampering" with oil and gas equipment. It's aimed at preventing activists from shutting off pipelines, a tactic that's been used in other states, according to the Washington Post.
Lawmakers in Florida are worried about blocked highways. A measure introduced by state Republican Senator George Gainer this month would slap criminal penalties on protesters obstructing traffic and exempt drivers from liability if they struck a protester under certain conditions. It was filed this week, and if enacted would take force on July 1.
Proposed legislation before Mississippi lawmakers would make obstruction of traffic a felony punishable by a $10,000 fine and a five-year prison sentence.
A number of North Dakota bills have been introduced in response to the long-standing protests there against the Dakota Access Pipeline. The proposal that drew the most attention was a bill that would have removed penalties for motorists who strike protesters with their car in some circumstances. That bill failed to make it out of the House, but a number of other measures increasing penalties for certain types of protest action are advancing through the legislature.
Many of the proposals were drafted before President Donald Trump was elected president, and were in response to the pipeline protests in North Dakota and the effective nationwide protests organized by the Black Lives Matter movement.
Civil rights advocates have argued that all the bills infringe on the constitutional right to protest under the First Amendment.
"I've been monitoring free speech legislation for about a dozen years now, and I've never seen anti-protest legislation in the states anywhere near as large as we're seeing this year," Lee Rowland, a senior staff attorney for the American Civil Liberties Union told Bloomberg News.
"It's no coincidence that the bills are being introduced as record numbers of people protest," she said.
You can share this story on social media: