'It was an intentional attack': Eyewitness describes deadly Charlottesville car plowing incident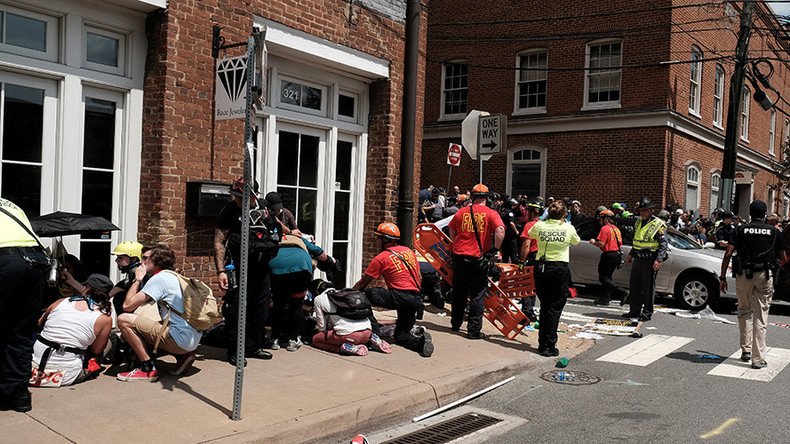 An eyewitness who saw a car plow into dozens of protesters at a far-right rally and counter-demonstrators in Charlottesville, Virginia described the crash involving one car plowing into protesters and crashing into another as "intentional" while speculating that it was a "terrorist attack."
READ MORE: Trump condemns 'display of hatred, bigotry & violence on many sides' after Charlottesville clashes
"It backed up and hit everyone again. There was a girl on the ground and she was trying to get up," an eyewitness, still shocked from the incident, told Ruptly.
"There was a girl on the ground. She got tore up….she tried to get up," he continued, describing what happened while repeating his words. The car "didn't have a license plate."
"It was an intentional terrorist attack," he concluded. There has been no confirmation from authorities that the car plowing incident was any way related with terrorism.
READ MORE: 1 killed, more 'extremely' injured after car plows into protesters at Charlottesville rally (VIDEOS)
The driver of the car has been arrested, according to law enforcement officials. At least one person has been killed and 19 injured after a car has ran into protesters at the Charlottesville clashes between 'Unite the Right' and counter demonstrators.
An RT journalist on the scene said that there were "extremely heavy injuries" sustained during the incident. Video footage posted on social media showed the moment of the incident the dark gray car ramed into the light gray car before violently reversing. A number of people appear to be thrown into the air with the force of the crash.
You can share this story on social media: