DOJ to deploy 'opioid fraud & abuse' units to 12 US cities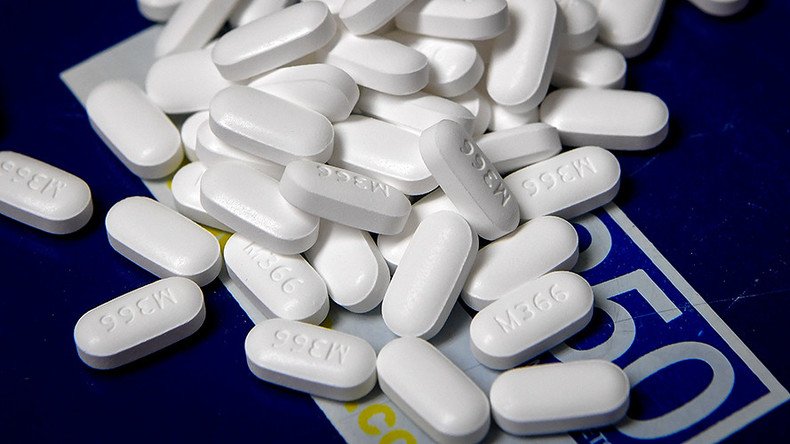 A dozen federal prosecutors will be sent to cities ravaged by the opioid epidemic to investigate health care fraud and opioid scams fueling the drug abuse epidemic, Attorney General Jeff Sessions has announced.
"In recent years some of the government officials in our country I think have mistakenly sent mixed message about the harmfulness of drugs," Sessions said at the Columbus Police Academy in Ohio on Wednesday, according to AP. "So let me say: We cannot capitulate intellectually or morally unto this kind of rampant drug abuse. We must create a culture that's hostile to drug abuse."
The visit comes a day after a presidential commission recommended President Donald Trump should declare the opioid epidemic a "national emergency" so he can take "bold steps" to address the crisis.
Prosecutors, who will be funded by the Justice Department for three years, will root out pill mills and track down doctors and other health care providers who illegal prescribe or distribute narcotics such as fentanyl and other powerful painkillers, Sessions said.
"You don't collect a drug debt in a court of law, you collect it with a barrel of a gun," he said.
Overdose deaths in Ohio were up two thirds last year, and while "treatment is important, treatment is not enough," Sessions said.
Prosecutors will be based in US attorney's offices in Alabama, California, Florida, Kentucky, Maryland, Michigan, Ohio, Nevada, North Carolina, Pennsylvania, Tennessee and West Virginia.
The use of prescription opioids has been the lead cause of the drug overdose crisis. More than 52,000 Americans died of overdoses in 2015, according to the Centers for Disease Control and Prevention (CDC).
Ohio is one of the states hardest-hit by the opioid crisis, with eight people a day dying of accidental overdoses. Opioid-related overdoses killed over 4,000 residents of the state in 2016, a 36 percent increase from the previous year, according to the Columbus Dispatch, which compiled reports from the state's coronary offices.
Heroin was among the lead causes of death, but autopsy records showed that fentanyl - a synthetic opiate 50 times stronger than morphine - had flooded Ohio and was largely to blame for the spike in deaths, reported the Dispatch.
Joining Sessions on Wednesday was Ohio's Attorney General Mike DeWine, who is leading a lawsuit against five drug manufacturers for their role in causing the state's unprecedented addictions crisis, and accusing them of intentionally misleading patients about the dangers of painkillers and claiming drug benefits not backed by science.
The drug companies have created a "deadly mess in Ohio that they now need to pay to clean up," DeWine said in May, at the time of the lawsuit filing.
The five companies being sued are Purdue Pharma LP, Johnson & Johnson's Janssen Pharmaceuticals Inc unit, a unit of Endo International Plc, Teva Pharmaceutical Industries Ltd's Cephalon unit and Allergan Plc.
Opioids are the most prescribed class of drugs and generated $11 billion in revenue for drug companies in 2014 alone, according to the complaint.
A growing number of state and local governments are suing drug makers and distributors, seeking to hold them accountable for the opioid crisis. In 2015, Kentucky settled a similar lawsuit that accused Purdue Pharma of misleading the public about the addictiveness of the prescription drug OxyContin. The company agreed to pay the state $24 million.
You can share this story on social media: