Pentagon awards $3.7bn advance to Lockheed for 50 F-35 fighter jets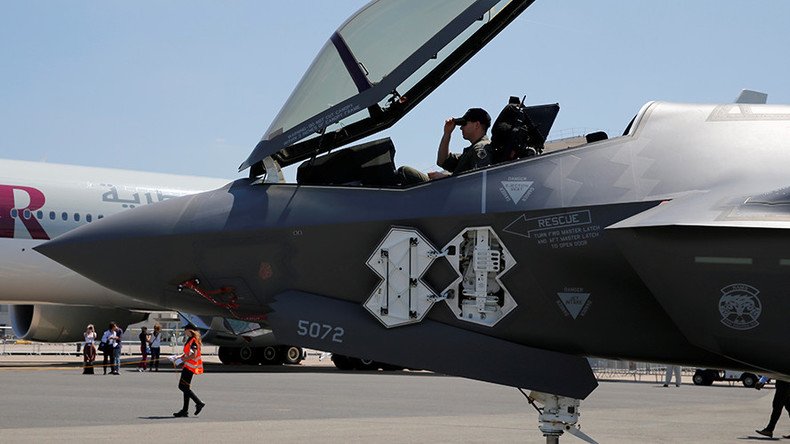 Lockheed Martin is getting billions of US tax dollars to produce F-35 fighter jets to be sold to foreign militaries. The advance payment allows the defense contractor to develop the fighter aircraft as their eleventh F-35 contract with the Pentagon is negotiated.
On Friday, the Department of Defense (DoD) awarded Lockheed Martin subsidiary Lockheed Martin Aeronautics a $3,693,062,124 interim payment to procure 50 F-35 Lightning II fighter jets intended for non-Department of Defense customers and foreign military sales (FMS) customers.
The contract provides funds for the procurement of one F-35B aircraft for Great Britain, one F-35A aircraft for Italy, eight F-35A aircraft each for Australia and the Netherlands, four F-35A aircraft for Turkey, six F-35A aircraft for Norway, and 22 F-35A aircraft for other foreign military customers.
The F-35 comes in three versions, the F-35A, which is designed to be the smallest and lightest for the Air Force and US allies, the F-35B, which is designed to handle short take-offs and vertical landings for the Marine Corps, and the F-35C, which is designed to take off and land from aircraft carriers for the Navy.
The contract also stipulates Lockheed provide equipment and maintenance services for the aircraft sold to the FMS listed, as well as the US Air Force, Marine Corps and Navy. The aircraft are expected to be completed by December 2020.
Lockheed has already been producing the aircraft under an agreement known as "undefinitized contract action" (UCA) while they negotiate their eleventh contract for F-35s with the Pentagon, which is expected to cover 141 aircraft for the US military.
In July, the DoD awarded Lockheed a $5.6 billion interim payment to cover costs associated with "complex production lines and supply chain dynamics" and begin construction on the eleventh lot of F-35 aircraft for the Pentagon, according to a statement obtained by Defense News from Joe DellaVedova, a spokesman for the Joint Program Office.
The F-35 Joint Strike Fighter program has been criticized as one of the most expensive weapon systems ever created. In total, the Pentagon expects to pay $1 trillion for 2,457 aircraft by 2038, according to the Government Accountability Office.
In February, the Pentagon reached a deal to pay $95 million for each F-35 aircraft in the tenth lot. It was the first time they were able to buy the aircraft for under $100 million a piece, down from $102 million in the ninth lot.
The F-35 Program office said the Pentagon will continue to negotiate the contract with Lockheed, adding they are "confident the final negotiated Lot 11 aircraft unit prices will be less than Lot 10," according to Reuters.
The Pentagon and Lockheed are expected to reach an agreement on the eleventh lot by the end of 2017.
You can share this story on social media: