Hero dog & pilot help save 2 girls struck by lightning in Utah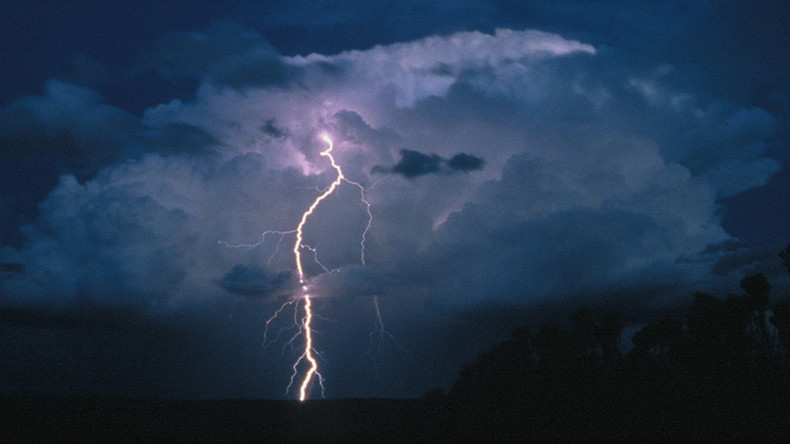 Two young girls struck by lightning while vacationing in a national forest in Utah Friday were rescued thanks to their family dog Spot, and the selfless actions of a helicopter pilot who happened to be in the area.
READ MORE: Dramatic video captures firefighters resuscitating a dog rescued from fire (VIDEO)
The two girls, aged 8 and 16, became separated from their relatives after they went to explore the 'Big Flat' area in the national park on their All Terrain Vehicle (ATV). It was here that the girls were struck by lightning, rendering them unconscious, according to a statement from the Beaver County Sheriff's Department.
Spot sprang into action, leading family members to the girls. Relatives called the Beaver County Sheriff's Office for help at approximately 10:45am.
In a stroke of luck, a pilot working for the Utah Department of Public Safety who was carrying out surveying work with a team of biologists in the area, was able to evacuate the girls.
"We just happened to be in the right place at the right time," said pilot Bret Hutchings as cited by KSL.
"It's pretty dramatic when you see what happens when a person gets struck by lightning… I asked who was the more critical? They said this one that was with the mother," Hutchings said.
"So I said, 'Mom, come with me. Let's get her loaded and get her down there."
Hutchings flew the girls to Beaver Valley Hospital after which they were transferred to the Primary Children's Hospital in Salt Lake City.
The eight-year-old girl was last described in critical condition while the 16-year-old is in serious but stable condition.
The family expressed their gratitude to Hutchings and all of the emergency medical staff who fought to save the girls' lives in a statement shared on the Beaver County Sheriff Department's Facebook page.
"I think the quick response was simply witnesses being there and intervening as quick as they could and getting them off the mountain," Beaver County sheriff's detective Kelly Davis said as cited by KSL, adding that those were the only "life-saving measures" that were taken.