Polygamy acceptance in US hits 14-year high, but not among the religious – poll
Published time: 29 Jul, 2017 02:18
Edited time: 29 Jul, 2017 19:40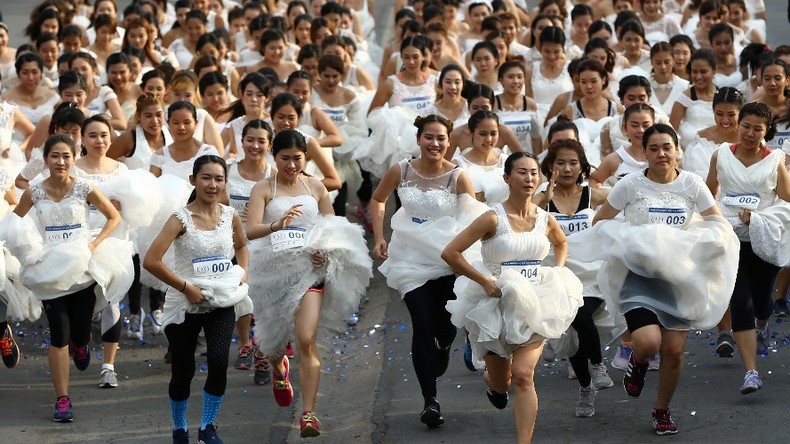 Despite being outlawed and widely denounced as immoral, the practice of polygamy is seeing a resurgence of American acceptance, according to a new poll.
American attitudes toward polygamy may be shifting, as 17 percent of people say they accept the practice, the highest rate in 14 years.
That figure is up 3 percent from a poll conducted in 2016 and the practice is also at its highest acceptance rate since 2003.
These findings come from a Gallup values and belief poll which, conducted May 3-7. The practice of having multiple spouses has grown in acceptance over a period of 15 years, according to Gallup.
The last five years have shown that the percentage of Americans who think polygamy is morally acceptable increased from a little more than one in 10 in 2012 to nearly 20 percent this year.
From 2003 to 2010, adults in the US who said polygamy was "morally acceptable" remained in the single digits. However, in 2011, that opinion increased to 11 percent. Gallup changed its definition of polygamy that year, though.
Before 2011, polygamy was defined as when "a husband has more than one wife at the same time." Then the term was defined in a gender-neutral way, and was labeled as when "a married person has more than one spouse at the same time."
Polygamy has a long history of being associated with religious groups, but it is Americans who do not practice any religion who are more likely to be accepting of it.
Between the years of 2011 and 2017, 32 percent of Americans who did not associate with a particular religion, or did not have a religion at all, responded by saying that polygamy was "morally acceptable," Gallup reported.
READ MORE: Utah man accused of using wives as 'polygamist ninjas'
Gallup observed that their recent findings are probably more reflective of the changing social beliefs in the country in general, which has overall moved to the left.
Many issues like same-sex relations, divorce or marriage out of wedlock have shifted toward a liberal outlook, but these cultural norms have also had legal backing in the US, while polygamy has not. The practice, which is still considered by many to be taboo, remains illegal in all 50 states.
Moreover, the State House of Utah, which outlawed polygamy in 1895 to be accepted into the Union, passed a bill this year that would increase penalties for convicted polygamists, among other things, according to Gallup.
Americans who identify as Christian are less likely to be accepting of polygamy, compared to the sample average of the Gallup poll.
Twelve percent of Mormons find polygamy morally acceptable, while 10 percent of Catholics and nine percent of Protestants/other see nothing wrong with polygamy.