CIA chief: China tops Russia & Iran as biggest long-term threat to US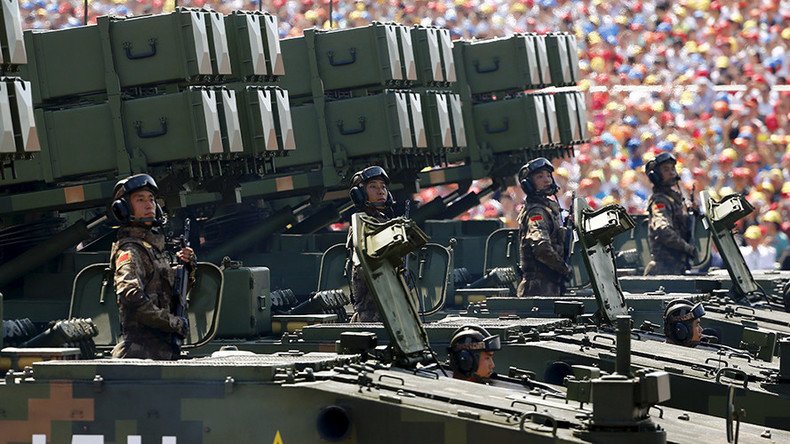 CIA Director Mike Pompeo sees China rather than Russia or Iran as the biggest threat to America's dominant position in the world. Beijing merited its position on the US spymaster's threat list due to its stronger economy and population, he said.
Speaking to the Washington Free Beacon, Pompeo marked terrorism and North Korea as the biggest short-term threats to US security interests, but selected China, Russia and Iran as mid-to-long-term concerns.
"It's hard to pick between China, Russia and Iran to be honest with you. I guess if I had to pick one with a nose above the others, I'd probably pick China," he told Bill Gertz, the Beacon's senior editor and national security reporter.
"They have a real economy that they have built, unlike Russia that lives and dies on how many barrels of oil they can pluck out of the ground. And Iran that is similarly very single sector derivative and not to the scale of China population-wise," he explained.
Pompeo added that Beijing's defense strategy is based on confronting the US and its capabilities.
"They are probably trying either to steal our stuff or make sure they can defeat it. And most often both," he said. "I think it's very clear when they think about their place in the world, they measure their success in placing themselves in the world where they want to be vis-à-vis the United States and not as against anyone else."
The director declined to comment on reports that since 2012 China has pivoted its espionage offensively in the US, but said the Chinese effort was "an active campaign".
"It began with really commercial attacks. Trying to steal our stuff. That continues. They've always tried to get at our military resources, our R&D programs and the like. So those have long histories," he said.
"But it is also the case that the Chinese have moved to a place where they, I think, see themselves as a rival superpower and so intend to conduct their version of espionage programs in a way that reflects their superpower status," Pompeo added.
"They have as part of their mission to reduce the relative power of the United States vis-à-vis their own country. And one of the ways they do that is through these active measures, these spying efforts."
The US and China, while remaining major trade and investment partners, have several points of contention. Arguably the most acute involves Beijing's territorial claims over a large part of the South China Sea, through which a major part of its maritime transport goes. The claims conflict with those of other nations, including close US ally the Philippines.
READ MORE: Philippines wants less confrontation in favor of more trade with China
The US supports neither nation and believes that the sea should be neutral waters. To back its position, it regularly sends its warships and military aircraft through what China sees as part of its territory. Beijing protests those "freedom of navigation" missions and deploys its own military assets to counter the US projection of power.
The two nations are also at odds over how to handle the North Korean nuclear issue, with the administration of President Donald Trump trying to pressure Beijing into being more aggressive toward its neighbor. China, which opposes Pyongyang's nuclear and missile programs, believes that overexerting pressure on North Korea may lead to a major crisis, which would hurt all nations in the region and beyond.
Washington and Beijing have also quarrelled about China's alleged currency manipulation, production of counterfeit brand products in China, alleged theft of intellectual property and state secrets by Chinese actors, and other issues. The two powers also have competing regional integration projects, with the US seeking to counteract China's growing influence on its neighbors.
'Russians have information we need'
Speaking on Russia, Pompeo commented on what Gertz described as "a kind of anti-Russia hysteria" over Moscow's alleged interference in the 2016 presidential election. The CIA chief said it was a "decades-old challenge for America" to counter Russia's supposed attempts to influence public opinion in other nations.
"We have an obligation to push back, defeat it, to work to make it painful for them so that they'll reduce the magnitude of what they're doing," he explained.
He added that the US and Russia can work together on counterterrorism to their mutual benefit.
"You have Americans that fly on Russian airplanes. They might have information that we need. It seems to me if we can find a way to share counterterrorism information with them, we ought to," he said.
Pompeo also suggested that Russia's campaign in Syria, while possibly taxing economically, gave Moscow valuable experience in overseas operations.
"When you exercise a force, you get better. So now they've had a chance to exercise their navy. They've had a chance to exercise their army. They've had a chance to do combined operations. Cruise missiles. Combined arms operations with their aviation assets," he said. "And so they will be better prepared in the event we're in a scenario where deterrence hasn't worked, whether that's in Eastern Europe or someplace else."
You can share this story on social media: