White House press official resigns amid mass firing threat over leaks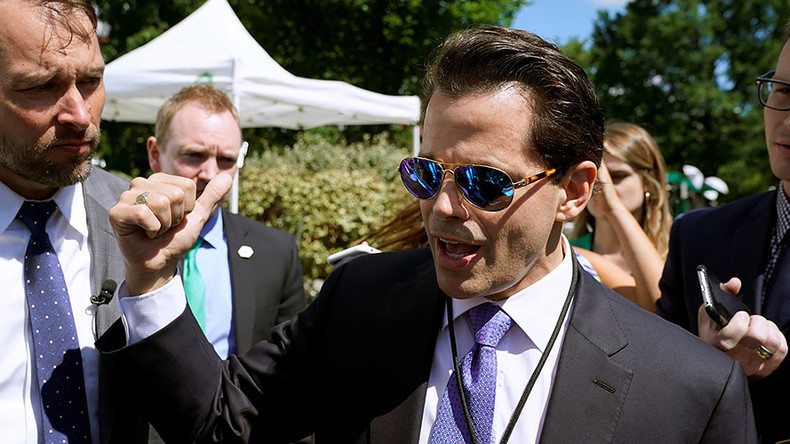 An abrupt resignation from the White House senior assistant press secretary has followed a stark warning from incoming communications director Anthony Scaramucci to "stop leaking or you're fired." But there are conflicting reports over the details.
On Tuesday afternoon, White House press aide Michael Short told news outlets that he "resigned, effective immediately," The Hill reported.
"It was a privilege to serve the President of the United States," Short said, without offering any further explanation.
However, Short denied that he was on the verge of being fired. His boss, Scaramucci, reacted to the resignation by blaming it on leaking, despite the fact that he had told Politico hours earlier that he was "committed to taking the comms shop down to [White House Press Secretary Sarah Huckabee Sanders] and me, if I can't get the leaks to stop."
That veiled threat spread rapidly from Politico to Short, Scaramucci seemed to imply later Tuesday. How that constitutes a leak is unclear, as instead of secret information flowing out of the White House, this instance would have been Scaramucci's words to Politico being passed along to White House staff.
"This is the problem with the leaking," Scaramucci told reporters outside the West Wing, according to The Hill. "This is actually a terrible thing. Let's say I'm firing Michael Short today. The fact that you guys know about it before he does really upsets me as a human being and as a Roman Catholic."
Adding to the confusion, Short told CNN that "the entire premise" of Scaramucci aiming to fire him over leaks "is false."
READ MORE: US anti-Russia sanctions failed, united Russians around President Putin – Trump's advisor
Scaramucci has been outspoken about wanting to prevent leaks from within the Trump administration.
"I'm going to fire everybody, that's how I'm going to do it," Scaramucci told reporters outside the White House on Tuesday.
Short's resignation follows the high-profile resignation of press secretary Sean Spicer. He quit last Friday after voicing opposition to the hiring of Scaramucci. Now other staffers that came to the White House under Trump's chief of staff Reince Priebus, as well as Priebus himself, may be concerned for how safe their own jobs are.
Short worked with Priebus and Spicer at the Republican National Committee (RNC), where he was assistant press secretary from 2009 to 2011. Short also worked for the RNC in the DC area from 2012 through his time on the Trump campaign in New York. Trump campaign staffers allege Short quit the campaign after the October 2016 release of a 2005 audio tape of Trump having a lewd conversation about women with Access Hollywood's Billy Bush. Short denies that he quit and instead was just returning to the RNC before being brought into the White House by Priebus.