'Obamacare is death': Trump implores Congress to repeal & replace bill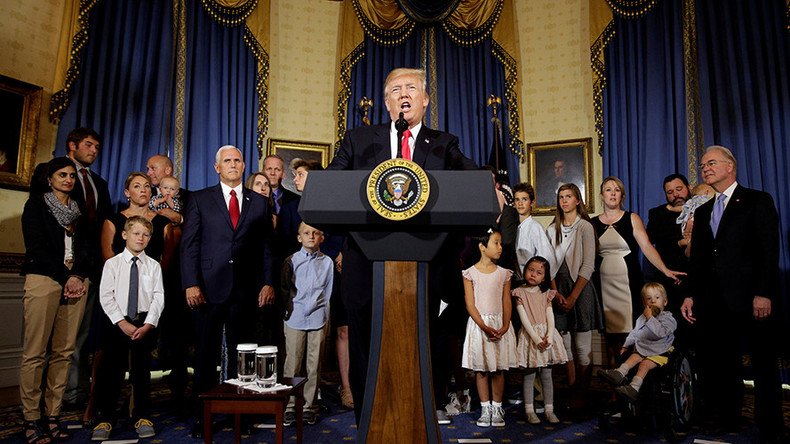 President Donald Trump scolded Senate Republicans in his hardest push yet for lawmakers to get rid of the Affordable Care Act. Ahead of a Senate vote to consider debate on a new bill, Trump called Obamacare a nightmare and a "big, fat ugly lie."
On Monday, the president scolded GOP senators who "have not done their job in ending the Obamacare nightmare."
Congressional Republicans have for years pushed to repeal President Barack Obama's signature healthcare legislation. However, with Trump waiting to sign a bill to repeal and replace Obamacare, the GOP has failed to unite behind one plan.
Last week, at Trump's urging, the Republican leadership in Congress said it would move to vote on repealing Obamacare separately from a replacement effort to come later.
Trump has since shifted back to urging them to start a debate and vote on the replacement before the Congressional August recess.
Everything the Democrats promised with Obamacare was a "big, fat ugly lie," Trump claimed, citing as an example Obama's 2009 statement: "If you like the plan you have, you can keep it. If you like the doctor you have, you can keep your doctor, too."
Promises of covering pre-existing conditions are meaningless if doctors who are needed are not on Obamacare plans, Trump claimed.
"Democrats go out and say 'Death, death, death,' but Obamacare is death. That's the one that's death," Trump said, pointing to insurance premiums that for many Americans have skyrocketed because of the Affordable Care Act.
Trump says a new law would abolish Obamacare's individual mandate, which makes it so that those who don't want or can't afford to buy insurance are slapped with a fine. It would also - among other things - give tax credits to buy private insurance and allocate $45 billion to fight the opioid epidemic in the country, according to the president.
However, the Congressional Budget Office (CBO) recently estimated that a version of the Senate healthcare bill would leave 22 million fewer Americans with insurance by 2026.
Senator Ted Cruz (R-Texas) says his Consumer Freedom amendment would lower costs and raise individual enrollment, including those considered "high risk."
The Cruz amendment would allow insurers to sell plans that do not comply with Obamacare mandates. The amendment didn't appeal to some Republicans who are uneasy that it would leave those with pre-existing conditions without a plan, according to the Washington Examiner.
Congress is set for its recess in mid-August, when members return to their home states for the remainder of the month. The Senate has already delayed their break by two weeks, as President Trump urged lawmakers not to "leave town until this is complete, until this bill is on my desk, and until we can all go over to the Oval Office and I'll sign it, and we can all celebrate for the American people," he told Republican senators last Wednesday.
You can share this story on social media: