SpaceX abandons propulsive landing plans for Red Dragon mission to Mars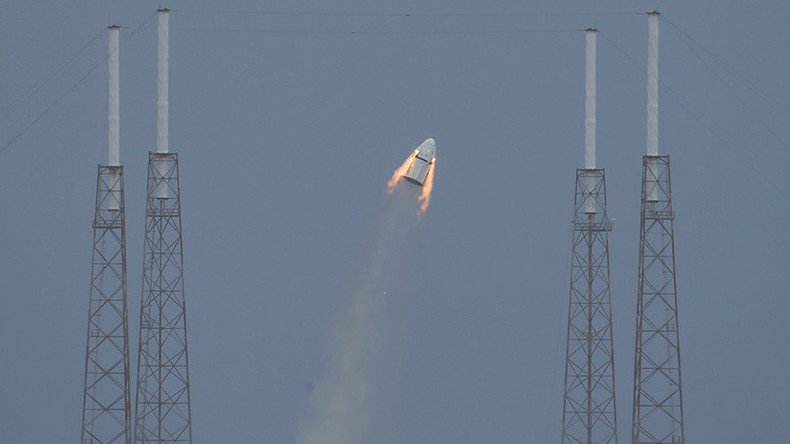 SpaceX will no longer produce the next version of their Dragon spacecraft capable of propulsive landings, altering their manned mission to Mars. CEO Elon Musk said they will eventually visit the red planet, but in "a vastly bigger ship."
Speaking at the International Space Station Research and Development Conference (ISS R&D) in Washington, DC Wednesday, SpaceX CEO Elon Musk sighed when he announced the company was ending development of Dragon propulsive landings, adding it was "a tough decision."
The decision means that SpaceX Dragon capsules will be forced to make splashdown landings with parachutes, just as capsules have traditionally landed in the past.
Originally, SpaceX was working on an updated version of the capsule called Dragon 2 or the Crew Dragon, which would use the propulsive landing technique, or a controlled descent with thrusters. The capsule was designed to deploy landing gears, making it easier to transport humans to and from the International Space Station (ISS) and eventually Mars.
Last year, SpaceX announced plans to send the Dragon spacecraft to Mars by 2018. Then, in February, those plans were shelved until 2020.
The company had conducted propulsive landing tests in 2016, demonstrating that the capsule was capable of performing the landing.
It had also conducted splashdown tests that utilize the capsule's parachute.
Musk said that Dragon 2 is "technically still capable" of propulsive landings, but said it would have to land on "some pretty soft landing pad because we've deleted the little legs that pop out of the heat shield."
Musk said the reason the Dragon 2 will no longer use the landing technique was due to safety concerns.

"The reason we decided not to pursue that heavily is that it would have taken a tremendous amount of effort to qualify that for safety for crew transport," Musk said. "That's why we are not pursuing it. It could be something that we bring back later, but it doesn't seem like the right way to apply resources right now."
Musk added that he did not think that propulsive landing was the best approach.
"There was a time when I thought the Dragon approach to landing on Mars, where you've got a base heat shield and side mounted thrusters, would be the right way to land on Mars. But now I'm pretty confident that is not the right way, and there's a far better approach," Musk said. "That's what the next generation of SpaceX rockets and spacecraft is going to do."
On Thursday, Musk tweeted that SpaceX still plans propulsion landing, also known as powered landing, on Mars, just with "a vastly bigger ship."
For now, Musk said that the "primary focus" of the Dragon 2 will be to take cargo and crew to the ISS by the middle of 2018. The new Dragon 2 will be designed with automated docking capabilities, which means they will not need to be captured and attached via the Space Station's robotic arm, as traditional capsules have in the past.
In 2014, the National Aeronautics and Space Administration (NASA) awarded SpaceX a $2.6 billion contract to finish development of the upgraded Dragon spacecraft and fly up to six crew rotation missions to ISS.
SpaceX has already flown supplies to ISS with the Dragon capsule, but not any crew. When Dragon 2 begins those missions, it will be the first time that astronauts have been taken to the space station from American soil since 2011, when the space shuttle program ended.
When asked if he would make the journey to the ISS with the Dragon 2, Musk said he "would like to at some point."
"Assuming things work out, yeah, maybe in three or four years," Musk said.
You can share this story on social media: