'Go back to Africa' Florida mayoral candidate tells blacks who seek reparations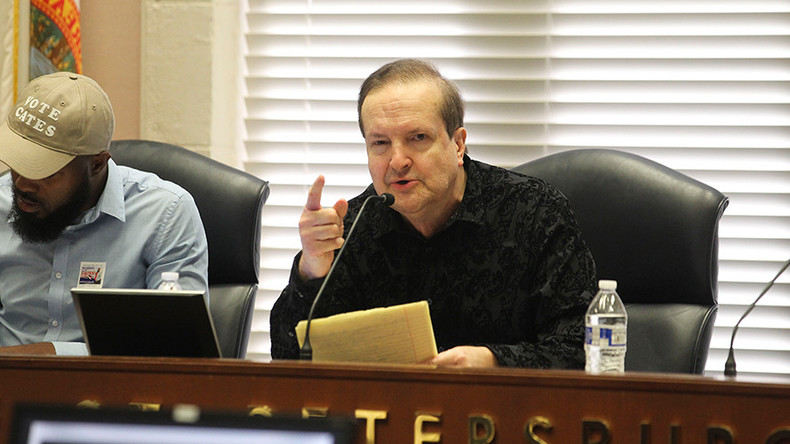 A Republican long-shot candidate in Florida's St. Petersburg mayoral race told those calling for reparations for African-Americans who endured slavery and oppression to "go back to Africa" if they don't like it in America.
Paul Congemi, 60, was at a forum in the Florida city when he addressed his campaign opponent Jesse Nevel, a white activist heading a group that calls for reparations for African-Americans.
"The reparations that you talk about, Mr. Nevel, your people already got your reparations. Your reparations came in the form of a man named Barack Obama," Congemi said.
"My advice to you, if you don't like it here in America, planes leave every hour from Tampa airport. Go back to Africa. Go back to Africa. Go back!"
Congemi later told the Washington Post that he doesn't want all black people to go back to Africa; just the specific group of black people who have been trying to make reparations a political issue in St. Petersburg.
The Uhuru Solidarity Movement, which backs his opponent, believes that reparations would help rectify racial and class inequality in the United States.
Nevel's campaign slogan is "Unity Through Reparations," and he has called on the white community to back the cause.
Reparations to the black community for a history of enslavement and oppression may not sound realistic to many Americans, however a United Nations panel made a non-binding declaration last year that the US did owe African-Americans reparations.
The insult stems from "the assumption among whites … that Black folks should be happy to be in America, which, through its kindness and generosity, has rendered African Americans the most fortunate Black people around. There is a perverse, outlandish assertion that Black people should leave if they cannot appreciate all that white people have done for them," according the Atlanta Black Star, as quoted by the Post.
In the past, however, many people believed that the best way for black people to escape economic and social oppression in the US was to return to the lands of their forefathers, the Post reported.
In the first half of the 20th century, black American Marcus Garvey started a shipping line that he hoped would ferry American blacks across the Atlantic.
This is Congemi's third run for the mayor's office in St. Petersburg.
"I'm not politically correct," Congemi told the Post. His other views include a belief that homosexuality is immoral.
In January, Congemi was charged with abusing his 87-year-old mother who ended up in intensive care for bed sores, the Tampa Bay Times reported. The charges were eventually dropped.
You can share this story on social media: