Enormous sinkhole devours two homes, threatens Florida neighborhood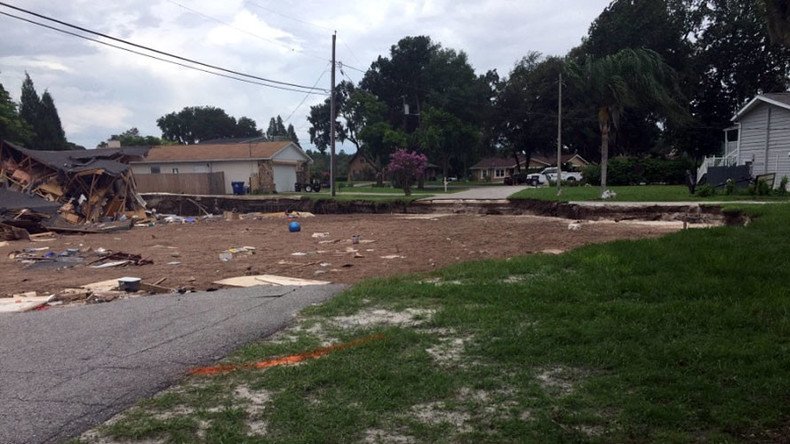 Eleven homes have been evacuated due to a sinkhole that destroyed two homes in Pasco County, Florida. More homes may be in severe danger as the natural phenomenon inches closer to a nearby lake.
"I ask that everybody out there please pray for the people in this community right now because as they go to bed tonight, I don't know if they will be able to sleep," Pasco County Sheriff Chris Nocco said, WFLA reported.
Almost a dozen more homes in the immediate area in the town of Land O' Lakes are also in danger of being harmed by the sinkhole, as the depressed plot of land is said to be almost 250 feet (76.2 meters) in diameter and 50 feet (15.24m) deep. No injuries have been reported.
The event also contributed to a loss of power for 100 homes in the area, according to ABC News.
As of Friday evening, the situation has not improved and officials are taking the necessary steps to ensure the safety of people in the area.
Boating has been temporarily suspended at a lake nearby, and officials have notified residents living in between the sinkhole and the lake to evacuate, due to concerns that "the entire ground can collapse at any second," ABC News reported.
Pasco officials said at a news conference Friday afternoon that the possibility of a third home being swallowed by the hole is high because the ground close to the sinkhole is very soft. Kevin Guthrie, Pasco County Assistant County Administrator, said, it has been almost 30 years since his colleagues have seen a sinkhole this big, WFLA reported.
On Friday at 7:21 am, the 911 service received a call detailing a boat that was falling into a hole. About 15 minutes later, firefighters arrived, but were too late, as the boat had already been submerged in the sinkhole. At this point, the hole was moving toward the house. Firefighters arrived in time to rescue two dogs in the home.
After an hour had elapsed, part of the neighboring home also fell into the ground. Residents were in that home, but they managed to get out safely. That particular home had recently been repaired due to damage from a previous sinkhole, according to ABC News.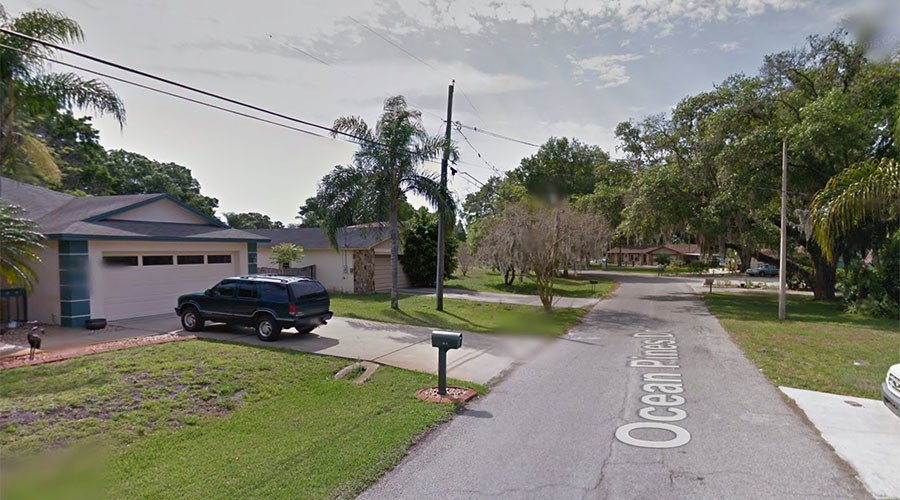 READ MORE: Powerful tornados sweeping through east Texas leave death & destruction in their wake (PHOTOS)
A battalion chief on the scene on Friday expressed to reporters the severity of the situation.
"It's an active sinkhole, so we don't know how big it's going to get yet," he explained. "We're just evacuating homes and making sure that everybody is safe," the chief told reporters. He also claimed that geologists were heading over to the scene of the sinkhole to "give us a definitive number on how big we need to evacuate," ABC News reported.
This is not the first time a home in this area has had problems with a sinkhole.
The neighboring house that fell into the hole had been repaired in the past due to problems regarding a sinkhole. That home was resold in 2015 after the repairs were finished and labeled as a "repaired" home. At this time, authorities do not know if the homes that were hit by the sinkhole are insured for this kind of disaster, according to WFLA.
You can share this story on social media: