Powerful tornados sweeping through east Texas leave death & destruction in their wake (PHOTOS)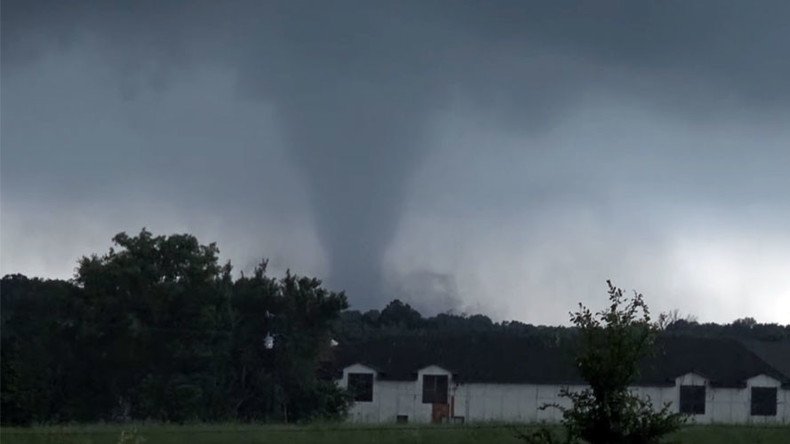 At least five people were killed and dozens injured as massive tornados swept through east Texas, leaving behind a trail of mangled trees, overturned vehicles, and damaged houses, authorities sad.
Canton in Van Zandt County, some 50 miles (80 km) east of Dallas, was the city most affected by the extreme weather conditions.
Captain Brian Horton of the Canton Fire Department confirmed the death toll during a news conference late on Saturday.
"That number may go up in the morning once we can get into these [affected] areas," he added.
According to ETMC Regional Healthcare Systems spokeswoman, Rebecca Berkley, at least 54 people have been hospitalized due to the storm.
City residents who don't need to be in the area should to stay out, "so that our teams can do what they need to do to take care of these people who are in need," Berkley said.
Canton Mayor Lou Ann Everett reported that the city has no power.
"We have three major transmission stations that are damaged," she said.
The full extent of the damage is yet unclear.
People have shared photos and videos of the aftermath of the deadly tornados on social media.
"I'm just devastated," Ernestine Cook, a local resident, told Texas-based WFAA TV.
"It [the tornado] hit so hard, so fast. It just kept moving," she said, adding "I've never seen anything like it after 22 years of living here."
Another Canton tornado survivor, Desirae Rasmussen, told NBC Dallas-Fort Worth that her house has been destroyed.
"Every last one of us walked away. But we have nothing left down there," Rasmussen said.
"We were all sitting in the hallway and the roof collapsed on us. By the time it was all over, we went outside. We had a three-level house, and we're down to the last level and half of that roof is gone," she explained.
Another local, William Melton, said that three-quarters of his two-story house has been damaged.
"Sucked the house right off on top of us. The roof and everything collapsed on us," he said, adding "me and a buddy of mine shielded the kids with the roof."
In the meantime, a triage center has been set up at Canton High School.
Personnel from the American Red Cross of North Texas have arrived at the scene of the disaster and set up several shelters in neighboring areas.
"These storms have been wide spread and have impacted many rural communities. We are making every effort to reach out to those affected," the organization said in a statement.
Tornados also ripped through neighboring Henderson and Rains counties in Texas.
The National Weather Service confirmed that three tornados hit in Canton and the cities of Eustace and Caney, Dallas news reported.
Missouri & Oklahoma declare states of emergency due to flooding
In a separate development, the states of Missouri and Oklahoma have declared states of emergency following severe storms that dumped torrential rain resulting in dangerous flooding on Saturday.
"The massive storm system has delivered widespread rain and high winds across much of the state since Friday, with damage to power lines and power poles as well as trees, roofs and structures," said Oklahoma Governor Mary Fallin.
In Missouri, authorities told some people to evacuate and 33 rescue operations were carried out, Missouri Governor Eric Greitens said.
A woman was killed when her car was swept away by waters, the Missouri Highway Patrol said, as cited by ABC-affiliate KCPR.
Up to 10 centimeters of rain fell in Oklahoma, Missouri, and Arkansas, said meteorologist Kenneth James of the Weather Prediction Center, which is part of the National Weather Service. Some parts of Indiana saw some 20 centimeters of rain, he added.
You can share this story on social media: