US soldier's widow seeks cash from husband's alleged killer after Canada 'paid him $8mn'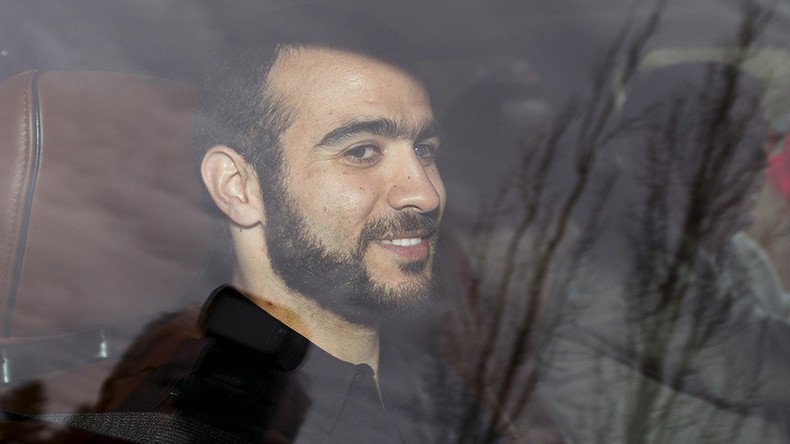 The widow of a slain US soldier is fighting to be awarded millions from her husband's alleged killer, after the former Guantanamo Bay prisoner was reportedly paid US$8 million by the Canadian government.
The case goes back to 2002, when US Army Sgt. First Class Christopher Speer was killed during a firefight at a suspected Al-Qaeda compound in Afghanistan.
His alleged killer, just 15 years old at the time, was Canadian-born Omar Khadr. He was suspected of throwing the grenade that killed Speer.
Khadr was captured by US troops after the firefight, and became the youngest inmate ever to grace the grounds of Guantanamo Bay.
As he was being held at the notorious prison, Canadian officials visited Khadr and interrogated him. The Canadian government later determined that Khadr's rights were violated during the interrogations.
As a result, Khadr was reportedly paid US$8 million by the Canadian government last week. However, that sum has not been confirmed by Canada or Khadr.
The payment brings to the forefront a verdict from two years ago, in which Speer's widow, Tabitha Speer, and former soldier Layne Morris – who was blinded in the 2002 firefight – won a wrongful death judgment of $134.1 million against Khadr in a Utah court.
Lawyers for Speer and Morris have now filed a motion in the Ontario Superior Court of Justice, asking that the Utah judgment be enforced in Canada, and for Khadr's assets to be frozen until payment for the 2015 judgment is sorted out.
Khadr's lawyer, Nate Whitling, says the plaintiffs' lawyers have not offered substantial evidence to prove there is "real risk" that Khadr intends to move or hide his assets, The Globe and Mail reported. Such evidence is generally necessary for plaintiffs to provide when seeking to win a freeze order.
"The scant evidence offered in support of this pleading consists of double and triple hearsay statements drawn from media reports and Wikipedia," Whitling's court filing reads.
Whitling also says that the Utah judgment was based entirely on Khadr's guilty pleas at Guantanamo, where he faced abuse and had his rights violated. Khadr has since recanted his confession, which he and his defense say was made under duress.
Furthermore, Whitling argues that recognizing the Utah judgment could conflict with Canadian public policy, which is grounds for a Canadian court to disregard the foreign judgment.
The two sides will face off in court on Thursday, according to The Globe and Mail.
You can share this story on social media: