Sputnik Radio challenges MSM on 105.5 FM in Washington, DC
Published time: 12 Jul, 2017 02:27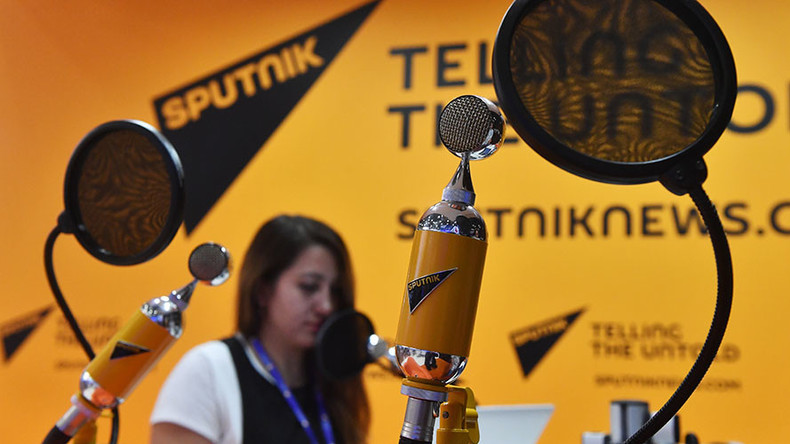 Sputnik Radio went on air on FM frequency in Washington, DC, to offer listeners an alternative to the mainstream media narrative with a mix of news programs, opinions and talk shows, Sputnik's DC chief told RT.
What will distinguish Sputnik Radio, aired at the frequency of 105.5 FM, from numerous other FM broadcasters, is paying a particular attention to topics left out by the mainstream media outlets, says Mindia Gavasheli, editor-in-chief of the Sputnik Bureau in Washington, DC.
"Our guys are talking about things that are not being covered by the mainstream media. And even when they talk about the topics that are being covered they clearly have a very different perspective, the prospective that often is missing from the mainstream coverage," Gavasheli told RT.
By moving to the FM bandwidth, Sputnik Radio wants to provide listeners with the chance to decide for themselves if its portrayal in the US media as a Kremlin propaganda tool corresponds to the truth.
"We are very glad that we can speak directly with our listeners now," Gavasheli said, adding that he believes that by fueling anti-Russian hysteria centered on Moscow's alleged meddling into the US elections, the mainstream media inadvertently promoted its brand.
"Surprisingly the fact that so many people were talking about us, sometimes, without even listening to us, should help us, because there is much hearsay about Sputnik that I hope it'll all make people at least curious that they would want to tune in," Gavasheli said. He went on to note that given that prospective listeners were likely fed lies about Sputnik in the past, the reality would strike them all the more.
"I hope it will surprise them, I hope it make them interested and perhaps addicted to our shows," he added.
Speaking of the US media industry, Gavasheli lamented that despite being diverse on paper, media coverage is turning increasingly partisan and superficial.
"It is really sad that when you go to a store you have a choice of 15 variations of mac and cheese, but you have only two point of views on the cable TV networks, it's either pro-Trump or anti-Trump and all those details are being lost and a lot of people are sick and tired of that," he said.
READ MORE:'Disgusting hypocrisy': Macron's 'RT-Sputnik propaganda' comments ignite social media backlash
Sputnik Radio is here to "fill this vacuum," Gavasheli says, adding that the diversity of opinion is something that would be cherished and given a top priority at the station. Heated discussions, for instance, is a signature of the brand new talk show, "Fault Lines," hosted by Lee Stranahan and Carland R. Nixon.
"We do not adhere to one point of view, we allow our hosts to dispute each other, to challenge each either, sometimes they yell at each other," Gavasheli said, speaking of the show.
However, while the show was originally devised as a "cross-fire style show where hosts would disagree on everything," it emerged that hosts, being of opposing ends of political spectrum, were able to find common ground and agree on a number of issues, Gavasheli said.
Lee Stranahan, formerly Breitbart News Network's lead investigative reporter, told RT that he believes their example shows that "the establishment media in the United States does not want to know how much people agree."
READ MORE: 'US Senator comparing RT, Sputnik to Nazi propaganda is absurd smear campaign'
Nixon, a Democrat and Bernie Sanders supporter, said that while the hosts don't shun voicing opposing views, they are both anti-establishment and firmly believe that no viewpoint should be imposed on the audience.
"Both of us are people who believe what is important is that people who are watching the show know the truth, so we recommend people look into it for themselves, do their own research and we give them our points of view but then we walk away," Nixon said.
Another thing that band the hosts together is a desire to dwell deep into the substance of political events and not speculate based on rumors.
"We actually talk about policy in the news a lot. From my perspective, when you turn on the mainstream media now, it is the National Inquirer, it is the latest, salacious rumor," Nixon said, adding that he believes that is what lures in listeners.
"I think it also demonstrates that a lot of Trump supporters and Bernie supporters were really into policy. We look at a lot of people who looked at the system and said: "The system is not working, either the system is not working the way it should or it is working the way it should and it's a bad system. And so we have substance policy talks and I think that what attracts people to the show."
Addressing the stigma around Russia and Sputnik, in particular, in the US, Stranahan told RT he has been calling out the bias in the Russian coverage for long and is "really happy" to be employed by the Russian news outlet.
"I think that this Russian narrative, the way it is put forward in the Americanmedia is a complete bias, it is not true," Stranahan said, adding that he sees his new role a chance "to prove that I mean what I'm saying in my reporting and that there's nothing to it."
"It's irrelevant to me what the medium is, I'm going to say what I believe," Nixon said.