Schoolboy interviews Defense Secretary Mattis after spying phone number in photo
Published time: 11 Jul, 2017 14:37
Edited time: 12 Jul, 2017 07:07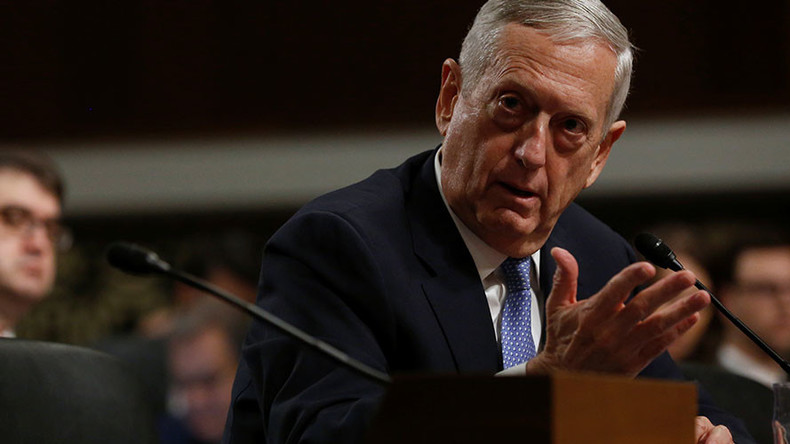 A private White House phone number was inadvertently broadcast to the world last May, allowing an eagle-eyed high school journalist to gain an interview with US Defense Secretary General James Mattis.
Teddy Fischer, from Mercer Island High School in Washington, got an exclusive that most journalists can only dream of by studying the minute detail in a picture posted on the Washington Post website.
READ MORE: 'I keep people awake at night': 'Mad Dog' Mattis drops 'quote of the year' (VIDEO)
The image depicted a relatively normal scene – a White House aide, Keith Schiller, carrying a stack of papers beside US President Donald Trump. However, what many people failed to realise was that the US defense secretary's cell number was on view for all to see.
According to Fischer, he ended up calling the number seen on a sticky note to see if the former top US Marine, General James Mattis, would pick up the phone.
He did and Fischer, who writes for his school newspaper, eventually ended up interviewing one of the main men tasked with ensuring the security of the US.
"I called it to see if it was him because I was curious and it was his voice," Fischer told Washington's King 5 news.
"I never really thought it would work," he admitted.
A full transcript of the pair's chat reveals Mattis' belief that future wars may be fought in "outer space and in the cyber domain".
Mattis also spoke on the topic of defeating an ideology, and suggested that children from Afghanistan or Syria could benefit from being educated in the US.
"I think the most important thing on [defeating an ideology] is probably education," he said.
"On the education, I sometimes wonder how much better the world would be if we funded for nations where they have ideology problems, where the ideologies are hateful, full of hatred.
READ MORE: To avoid endless war in Syria, US deconflicts with Russia – Pentagon
"I wonder what what would happen if we turned around and we helped pay for high school students, a boy and girl at each high school in that country to come to America… Every high school whether it be in Afghanistan or Syria or wherever, would send one boy and one girl to Mercer Island or to Topeka, Kansas or wherever," Mattis told Fischer in the interview.
He added: "I think ideologies can be countered by showing people a better education and hope for the future by learning how to get along with one another. And for all our problems in our country, we're probably still the best example of that in the world."