'Summer of hell': 600k+ New York-area commuters face massive station repairs & delays
Published time: 10 Jul, 2017 22:19
Edited time: 11 Jul, 2017 08:00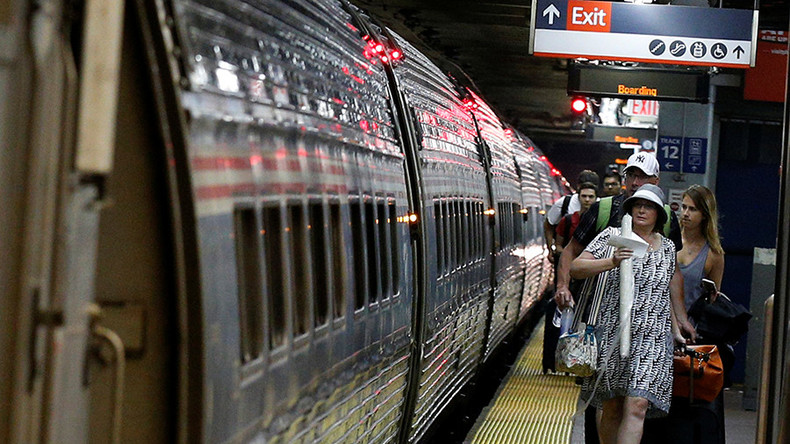 A two-month period of extensive repairs of signals and tracks at New York's Penn Station, a major commuter hub for nearly 600,000 people, began with some overcrowding and delays. In 2016, 3,000 delays and cancellations were caused by engineering work.
Monday morning's rush hour began without any unusually large crowd and without any major problems. There was a garbage fire at Penn Station that spewed smoke onto the concourse, but no major delays or overcrowding, according to WNBC
New York Governor Andrew Cuomo had forecast the engineering repairs would cause a "summer of hell" for commuters.
The work was initially scheduled for nights and weekends over the course of a few years, but two recent derailments and other problems spotlighted the station's aging infrastructure, convincing Amtrak to accelerate the schedule.
The work is scheduled to last through the end of August.
For commuters on the Long Island Rail Road (LIRR) and New Jersey Transit, as well as Amtrak, the work will mean fewer trains during peak periods.
There was overcrowding in Hoboken, a major hub for New Jerseyans trying to reach Manhattan. All the trains on New Jersey transit's Morris and Essex Line had to been diverted, stretching Hoboken's capacity to the limit.
New Jersey Transit warned the public online and elsewhere about the congestion that is expected when up to 16,000 commuters are added to the 23,000 people who usually flow through the Hoboken station each day, agency spokesman Charles Ingoglia said.
The halls leading from New Jersey trains to PATH trains were packed for over an hour and some people seemed bewildered at their new routine.
"A lot of confusion and too many people gathered in one space," Lex Marshall told AP. "Everybody's just bumping into each other, pushing each other to get to their destinations."
When the work is completed, rail riders are anticipated to benefit from up-to-date equipment in and around the station.
Riders could still experience delays from electrical wire failures in the tunnel between New York and New Jersey, as well as signal and track problems in northern New Jersey east of Newark. The tunnel damage dates back to 2012's Superstorm Sandy, and these improvements could take a decade to correct.
In June, LIRR recorded 3,000 delays or cancellations caused by engineering work in 2016, and it was on track to surpass 3,500 engineering-related delays this year, the Wall Street Journal reported.
The Amtrak-owned infrastructure at Penn Station was responsible for 21 percent of the 10,000 cancelled or delayed trains through the first five months of this year.
The infrastructure is struggling to handle an increase in riders as well. The number of commuters rose 10 percent between 2011 and 2016 to 89 million people per year, its highest since 1949, according LIRR President Patrick Nowakowski.
In response, the commuter rail network boosted the number of trains it runs 7.4 percent from 2011, bringing a total of 247,000 trains to the tracks.

"Because everything is scheduled so precisely and so tightly to flow with one another, when one gets delayed, you have a domino effect," Nowakowski told AP.
The beginning of Amtrak's repairs coincided with a new survey of New York subway riders that found that 74 percent had been late to work or a meeting due to delays in the past three months, according to City Comptroller Scott Stringer.
Among those affected, 13 percent lost wages in three months and 2 percent said they'd been fired. Nearly one in five (18 percent) said they had been reprimanded by their supervisor at work because of subway delays over the same period.
The survey was conducted among 1,200 subway riders at 143 stations around the city.
"Our subway system is in crisis," Stringer said on Sunday, according to the New York Daily News. "This shows the crisis is real and the impact is real on the people of New York City."
Stringer is seeking a $3.5 billion bond act, to be approved by voters, to help raise money for signal upgrades and track repairs.
About 1.7 billion people rode the subway in 2015, with 5.7 million rides per weekday.
The spike in delays is backed up by Metropolitan Transit Authority data, which found 823,582 delayed trains last year, a number on pace to hit 900,000 this year, up from 356,607 in 2012,
MTA Chairman Joe Lhota said, "The statistics you tell, they don't surprise me," according to the New York Daily News. "At the end of the day, I want all our customers as satisfied as possible."